The Importance of Business Translation in Global Markets
Businesses are meant to grow! But growth demands diversity, diversity of markets and customers. And with diversity comes language barriers, which can really halt your plans.

Yes, the world is more connected than ever, but language barriers are still relevant nonetheless.

To get visibility and be successful in international markets, your business has to do what the locals do. You know, when in Rome, do as the Romans do. And locals prefer engaging with and buying from global enterprises that have a digital and physical presence in their native language.
In this blog post, we'll talk about what constitutes business translation and what is its impact when looking to expand your business. We also give some great insights on how to find a business translation company to partner with and ensure your business translation project is optimally efficient.
Why Should You Invest In Business Translation?
In one of the biggest markets in the world, China, business translation is more than just a nice investment to make. There, English is the most spoken Western language, but only by a small percentage of the population.

Add to that the majority of people don't use Google, but rather Baidu which only allows for the ranking of websites in Chinese. Without translation, you'll be left out and hurt your chances of ever building a customer and client base in China.
Business translation and localization can yield significant benefits for companies looking to expand globally – which is where the eyes of all business owners are, even though they might start as small businesses.
According to the Equinix 2022 Global Tech Trends Survey, a substantial 72% of IT decision-makers expressed their organization's plans to expand into new cities, countries, or regions within the next 12 months. The growing interest in venturing into international markets speaks to the ease of the process of global enterprise expansion due to recent innovations in technology, particularly the internet and digital communication tools.


On the other hand, countries are now more open than ever to foreign investments and they're proactive about it by decreasing taxes or incentivizing foreign businesses in other ways.
With just a few clicks, businesses can establish a strong online presence and showcase their products or services to a global audience. Developing countries are experiencing the majority of this increase, surpassing even the growth rates seen in developed nations.

This indicates the immense revenue potential available in international markets. Their population has increased their quality of life, boosting their purchasing power as well.
Moving from a developed country to a developing one and vice versa has its advantages. Going from the USA to the Middle East gives access to a developing market where there are more gaps, and none of the markets are saturated.

Being an early mover there also helps in terms of brand recognition and credibility. You'll be able to establish a strong foothold before competitors which will build a loyal customer base and set the stage for future growth.
On the other hand, moving from, say, the Middle East to the USA presents immense growth opportunities. You get better brand exposure, increased revenue potential, and the opportunity to tap into more lucrative markets.
Now that we've clarified why business translation is important, we're going ahead to show its importance and purpose within the operations of the business as well as engage with the new target audience.
Fun Fact: On average, only one to two of every 10,000 substances synthesized in laboratories will successfully pass all stages of development required to become a marketable medicine. Source: European Federation of Pharmaceutical Industries and Associations
The Importance of Business Translation for Global Expansion
65% of surveyed people prefer content in the language

40% won't buy from websites in another language (

CSA

)

Countries with the largest digital populations in the world as of January 2023:
Most Spoken Languages Worldwide: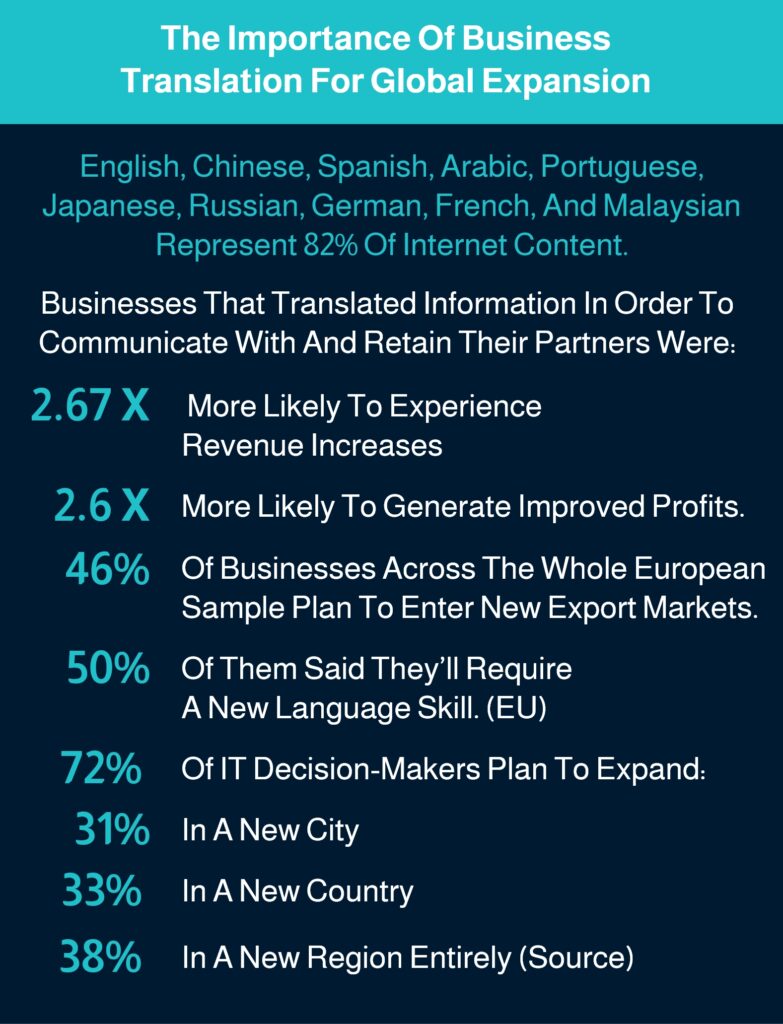 What Is Business Translation?
Business translation and localization involve taking any type of business material, whether it be marketing materials, legal, or technical documents, and converting it into one or more languages that are relevant to the target audience.

The goal of business translation is to ensure that all parties involved in international business activities can communicate effectively and accurately, whether it be to close a deal, build a relationship, or simply exchange information.
Your Business Partners:
Internal Business Documents
Even before entering a new target market, your business will need to translate internal business documents and communication materials that transfer the operation from one location to another. HR manuals, guidelines, operation procedures, and other similar documents are necessary to introduce your business in the new country.Internal documents are necessary because they will ensure that the new staff is familiar with how you conduct business. On the other hand, it links your HQ with the new office, so you can easily communicate and share information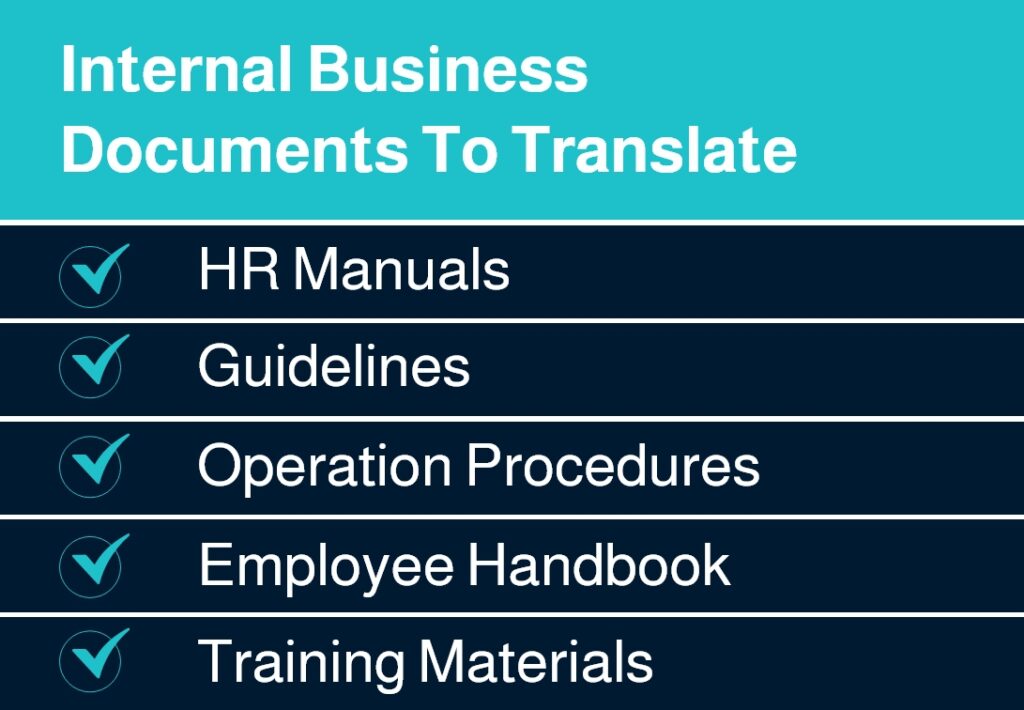 Business translation and localization involve taking any type of business material, whether it be marketing materials, legal, or technical documents, and converting it into one or more languages that are relevant to the target audience.


While this is not a requirement in every country, leaving the documents in the native language of your business will stall work, most probably confuse the new staff, and may cause coordination problems.
Here, the volume of the documents that need accurate translation will depend on the size of your business. If you have a large corporation with multiple locations, you'll need to build an efficient workflow that centralizes all the documents for your business document translation process.
With the help of a centralized business translation workflow, you can manage dispersed content putting an end to fragmented and uncoordinated translation efforts.
Your Business Partners & Local Institutions: Legal and Technical Documents
When you expand your business to international markets, you'll have to start new relationships with other businesses, organizations, and institutions which will require some documentation.

Depending on the industry, and its corresponding terminology, you'll need business translation for your legal and technical documents where accuracy and precision are crucial.
Proceedings, registrations, filings, patents, or user manuals- these are but a few of the legal documents that need an accurate technical translation. And only expert and experienced translators who understand the technical terminology and legal field of the target country can do the job.


Legal documentation covers various documents such as warrants, registrations, certifications, statements, and affidavits. These documents will represent your integrity and legal validity in the new target market.
Your Target Audience: Marketing and Digital Assets

Next, you have to make sure to have an intact accurate translation process for your marketing and digital assets, or all the materials and documents with which you'll be interacting with your target audience.
These assets serve as the voice of your brand, delivering powerful messages about your products and services to the local audience. Think of press releases, product sheets, landing pages, email templates, paid advertisements, and social media content as your marketing ambassadors in the target market.

Here more than a translation can be necessary. Oftentimes, business translation services by transcreation, where native translation teams work by creative briefs to create new marketing material from scratch to appeal to the new culture.
Transcreation requires a deep understanding of the local culture and adapting your messaging to truly resonate with the audience. In most cases, it'll require a local translation agency with a native team of experts that includes translators, copywriters, marketers, and localization experts to create fresh multilingual marketing materials that capture the essence of the target culture.
We like to call this process the art of brand adaptation where you stay true to your brand identity and authentically connect with the unique values and preferences of the local market.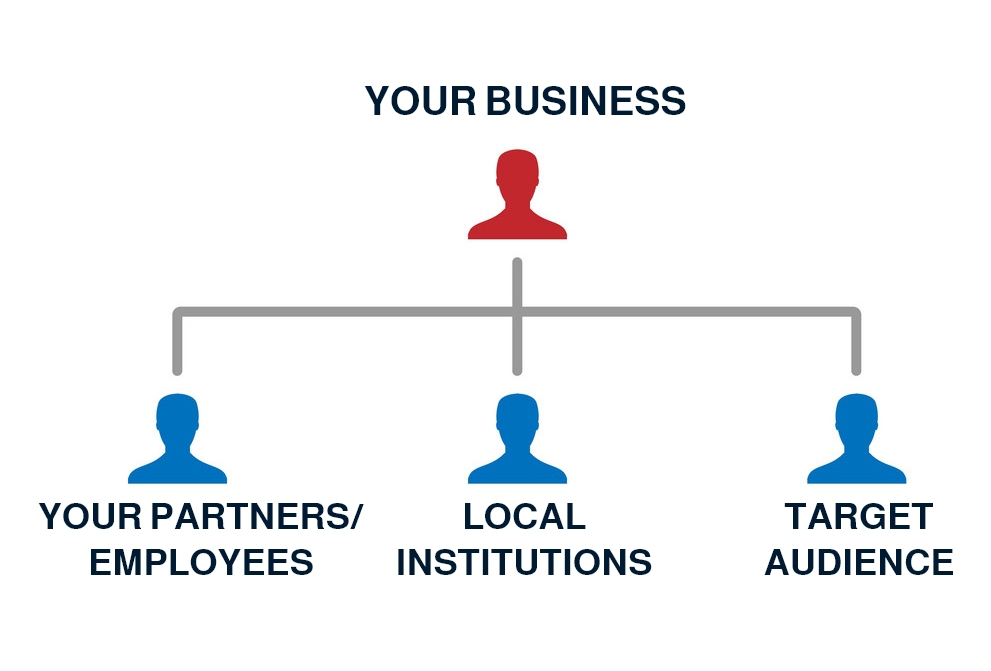 YOUR PARTNERS/EMPLOYEES
Centralize and organize documents for easy access and coordination.

Internal business documents, communication materials, HR manuals, guidelines, and operation procedures.
LOCAL INSTITUTIONS
Ensure compliance and integrity by providing precise translations of legal documents for local institutions.

Warrants, registrations, certifications, statements, affidavits, etc.
TARGET AUDIENCE
Stay true to brand identity while authentically connecting with the values and preferences of the local market.

Marketing materials, press releases, product sheets, landing pages, email templates, advertisements, and social media content.
Download the guide now to learn
the essential steps to successfully expand your business into new markets.

How to Make Sure Your Business Translation Project Is Optimal and Efficient?
When it comes to business translation, ensuring an optimal and efficient project is essential for achieving accurate and high-quality results.

This will require the support of an expert languages services provider with a comprehensive approach that leverages advanced technology, expert professionals, and a client-centric mindset to deliver outstanding translation solutions.

Here are 5 things to consider when choosing your language partner for your business translation project:
Native Translators and Localizers
Make sure the language services provider works exclusively with native translators and localizers who possess an innate understanding of their target language and culture. Apart from translating with a clear target audience in mind, they should also be subject-matter experts in various fields.
The project managers should be able to provide dedicated multilingual support, acting as your main point of contact throughout the translation process.
The translation team should have access to robust translation and localization technology. From a Translation Management System (TMS) to Computer-Assisted Translation (CAT) tools, and more, these tools ensure efficient project management, seamless collaboration, and consistency, and quick turnaround times.
Your language services provider of choice should have a rigorous and multifaceted QA process in place. This includes a thorough translation process that includes Translation, Editing, and Proofreading (TEP) as well as Localization QA and testing to ensure linguistic fluency and adherence to industry-specific standards.
Machine Translation

Post-Editing Support
You might be tempted to integrate machine translation technologies into your translation workflow. But in that case, and for your customer-facing content in particular, human translators are indispensable. Choose a language services provider that provides expert Machine Translation Post-Editing (MTPE) services, powered by trained editors who can enhance the fluency, cultural relevance, and tone of your marketing messages.
What is the role of translation in business?
Business translation is an essential service that enables expansion and facilitates communication among multilingual clients, partners, teams, and customers. Without it, effective communication and engagement with diverse audiences would be impossible.

Through translation, businesses can render marketing materials, legal and technical documents, customer support, and internal communications, fostering trust and enabling effective communication and cultural adaptation.
Conclusion
Business translation strategyis a key factor in reaching international markets, generating new revenue streams, and fostering strong customer relationships.

By investing in professional translation services, you can establish a localized online presence that resonates with target audiences and support global expansion.Nonetheless, at Laoret we don't offer only translation for businesses but a comprehensive set of language services, including localization, DTP, and interpreting services in 120 languages. We are dedicated to delivering exceptional results that enable your business to excel in the global marketplace with quick turnaround times. Trust us to empower your expansion efforts, enhance customer satisfaction, and drive revenue growth through our expertise and accurate translation solutions. Request a quote to start breaking language barriers and unlock the full potential of your business on the international market today.