Captivate Local Audiences with Laoret's Voice Over Services
Laoret's end-to-end voice over services are designed to find the perfect voice for your original audio with native and interactive voices in any foreign language. As a translation and voice over agency, we have a roster of professional voice actors, skilled translators, sound engineers, and project managers to amplify your brand's message in 120 languages.
Laoret caters to a wide range of audio needs, from commercials to video games, e-learning modules, films, and more. We ensure streamlined and efficient project management, quick turnaround times, and high-quality recordings of original dialogues. Our hassle-free experience saves you time and resources while delivering captivating multilingual voice over recordings that will build authority in local markets and win the hearts of the locals.
Customized and Professional Voice Over Process
Our foreign language voice services at Laoret revolve around four key milestones to ensure exceptional voice over results for our clients. Starting with script review, we thoroughly review the script to get it ready before recording. We can also help transcreate it to resonate with the target locale. Following this, we move on to transcription, translation, and localization. Our skilled team skillfully transcribes and adapts the script to target languages and cultural contexts. To maintain quality, the project goes through our translation, editing, and proofreading (TEP) practices, where everything is edited and proofread before it reaches the voice over actors and engineers.
As we progress to the recording and production phases, we pick the best voice artists to bring your scripts to life. Not to mention, we utilize high-quality recording equipment and studios for pristine audio quality. During the post-production phase, we employ advanced sound engineering techniques to polish the recordings. Also, we conduct meticulous quality assurance checks and revisions to deliver a stellar final product.
Flexible and Customized Voice Over Services
Nowadays, it's crucial to communicate with your target audience using the right branding tone, style, and character. If you're expanding into new markets, speaking their native language is essential. As an experienced voice over company, we can help you find the best native-speaking voice over talent, transcribe your content, translate it, synchronize it with video, and customize your project for the specific locale. Our voice over services are an integrated solution that can adapt to any region or niche, so our team can handle all the processes.
Laoret has extensive experience handling a wide range of formats and projects, such as:
● Documentaries
● News Reports and Broadcasts
● eLearning Courses and Corporate Training
● Animated Films
● Explainer Videos for Products and Services
● Podcasts
● Business Presentations
● Medical and Healthcare Videos
● Legal and Compliance Multimedia Content
We can handle all common file formats associated with voice over services, including MP3, WAV, AIFF, and more.
Rigorous Quality Assurance and Cutting-Edge Tools
Our quality guarantee is at the core of our operations. We adhere to ISO 9001 and 17100 certifications, which ensure that our audio translation meets industry-specific requirements. Whether it's translating medical and healthcare narrations or maintaining consistency in corporate presentations, our robust QA processes ensure outstanding results for our voice over services.
We employ a range of powerfully supported technology tools and industry best practices to maintain the highest standards throughout the voice over production process. We follow a rigorous Translation, Editing, and Proofreading (TEP) process, which involves multiple linguistic experts working collaboratively to ensure accuracy, consistency, and fluency in audio-visual translations. We also use Computer-Assisted Translation (CAT) tools to help our linguists maintain consistency of terminology, manage glossaries, and optimize translation workflows.
And we use the Translation Management System (TMS) to efficiently manage projects, track progress, maintain version control, and securely store client data.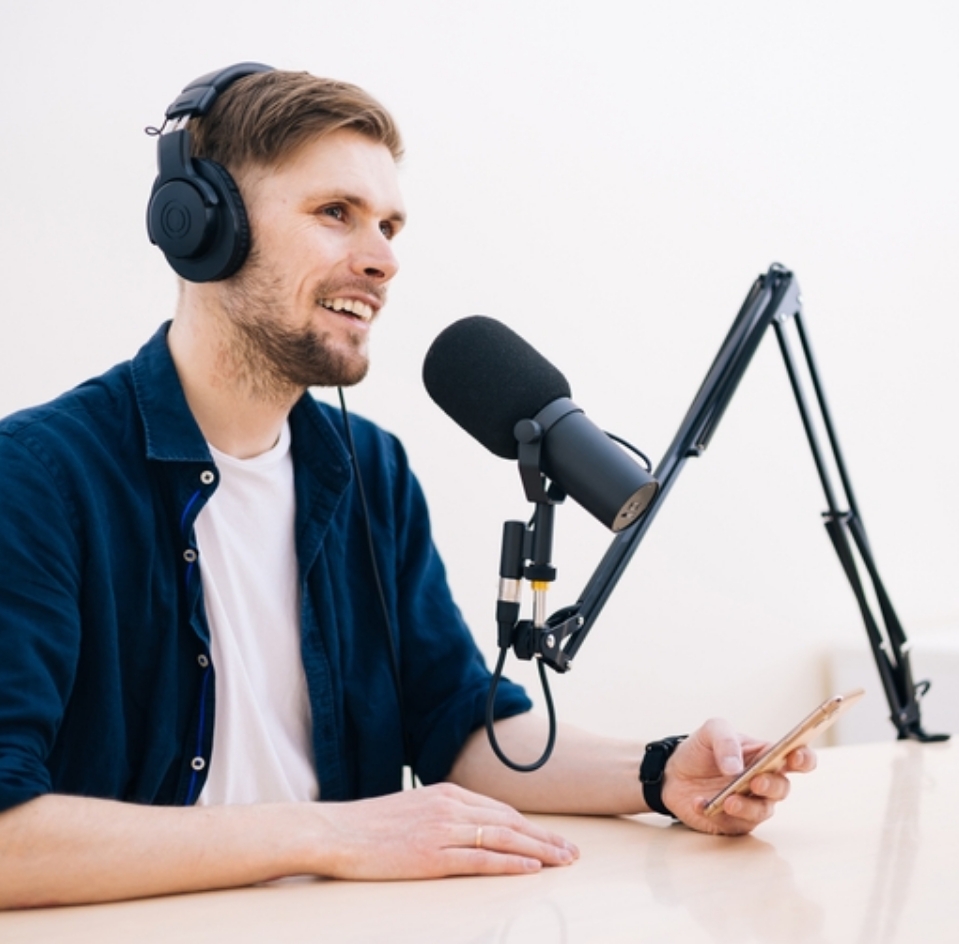 Navigate Voice Over Services at Laoret
Your multilingual voice over project will receive the attention it deserves as we seamlessly navigate each stage with passion and precision. Together, we'll craft your production brief, ensuring we are on the same page with your voice over requirements. We'll find the perfect voice over talent for your project, guaranteeing a captivating performance that aligns with your vision. And our skilled engineering team will manage the recording process, ensuring flawless performance. The assigned project manager will always be by your side, providing support and guidance.
Every voice over recording will undergo meticulous editing, treatment, and encoding tailored to your desired format specifications. No unwanted noises, lip smacking, or sibilance. We'll masterfully blend the new voiceover with the original audio and dialogue, creating a harmonious and balanced soundscape.
With Laoret, you'll get more than just a voice over company. Our expertise goes beyond exceptional voice over translation services. We proudly provide media translation services, breaking language barriers and ensuring your content resonates with global audiences. Our multimedia localization services enable seamless communication across borders, empowering your brand to thrive in any market. Elevate your brand with our top-notch audio voice over services, designed to leave a lasting impact on your target audience. Contact us now.
Leveraging Up-to-Date Tools for a User-Friendly ISEO Strategy
Keywords are all about matching user intent with all the content on your site. Our international SEO services follow the best practices in building an internationally friendly URL structure, utilizing language tags, and transcreating all the content in multiple languages. We cater to specific search engine patterns, keyword volume conversions, target audience demographics, purchasing behavior, and trends to unlock the full potential of your brand.
Laoret engages the best Translation Management System (TMS) to streamline and manage the workflow in order to handle your project with seamless efficiency, no matter the size or complexity. You can also consult our pre-order cost calculator without any commitment from your side.
Our team of international SEO consultants, technical experts, and digital marketers is committed to delivering highly-effective and personalized international SEO strategies. You can also check out our marketing translation services to explore our expertise backed by real-world case studies that demonstrate our drive.
Translation
Services
Our ISO 9001 and ISO 17100 Certified Translation Services are maximized within the process of Connected Translation
While 100% accuracy strongly defines our services, our translations are also immensely creative when it comes to reflecting the tone and identity of your industry. That is why our professional translators also possess a deep understanding of your business and the audience you are aiming to reach. That is why our professional translators also possess a deep understanding of your business and the audience you are aiming to reach.