Transcreation: When You Should Go For it And When You Should NOT
Last week, a client coming from the Media and Entertainment Industry knocked on our door after reading one of our recent blog posts on What Is Transcreation And How Is It Best Managed? They needed to localize a bunch of general streaming TV channel descriptions and some promotional information on banners into 10 languages. To our surprise, they insisted on getting transcreation services for these descriptions, even though this would not be the most suitable service for them. More specifically they said: "We don't want a literal translation". Oh, wait. What? They seemed to think that professional translation and/or localization services would lead up to a literal translation, while they do not.
We understand there has been a lot of talk around transcreation. As a trending topic, it seems that the word "transcreation" is enough to attract a list of clients who may benefit more from other services. So, time to bring our pen and paper!! We would like to set the record straight and explain when you do need Transcreation and when you should consider other avenues.
Translation, Localization, And Transcreation. What Are They?
Transcreation is a hot topic. Clients read about how it can make you connect with your audience in a genuine way and boost sales significantly, and they are ready to go. While it can certainly do that, it seems to have caused a misconception about what the other services involve.
A translation is looking to replace the source content with corresponding words in the target language. While it aims to be true to the source text and look for the closest possible equivalent, professional translation shouldn't be literal. This even includes highly controlled content such as legal translations. Qualified translators will always aim to produce a text that will convey the right meaning and feels natural to the target audience.
That being said, some translations are more targeted than others. Localization goes a step further and adapts the content in terms of cultural sensitivities in text, but also design, colors, images, and so on. Here, the emotional investment becomes more important and any type of content looking to evoke emotions or actions from the visitors should consider localization.
Then how do you define Transcreation? Transcreation services aim to translate the emotion, culture, and feel of your message onto a new audience, much like Localization. But with transcreation, you can benefit from a team of marketing experts and copywriters, who can create a targeted message out of thin air. So, you don't necessarily need a source text for this service but rather ideas and marketing messages to transform into multilingual content.
Translation
Localization
Transcreation
Replacing one language with corresponding words in the other language in a natural way that remains true to the source content.
Preparing the source content for the local language and culture, establishing a genuine connection with your audience.
Creating multilingual content that will maintain the context, feel, and style of the message, but may result in entirely new content.
Good for: Informative text not designed to trigger any direct emotion.

Source content is needed.

Good for: meeting local expectations and localized service/product needs Commercial and Culture-savvy translations that need specific adaptations to be successful.

Source content is needed.

Good for: Creative local copy focused on marketing and a specific call to action.
Source content isn't essential. Any source text would be used more as a concept or reference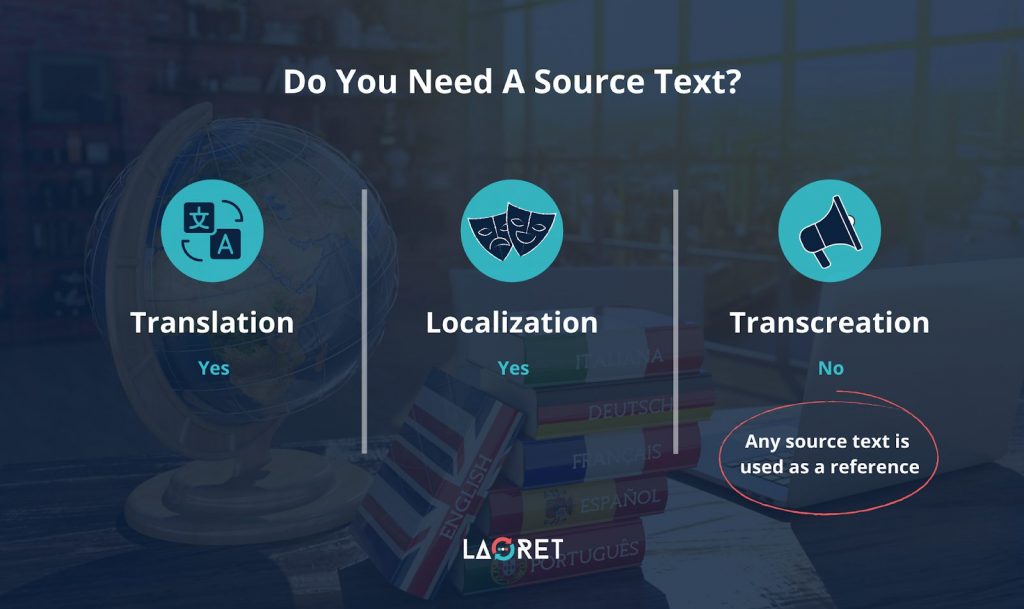 Do You Need A Culture-Savvy Localization? Okay. Then First Have A Look At Your Source Text
A lot of companies out there will tell you that transcreation starts from a source text and that this text is used as a concept to create new, engaging content in your target language. From our experience, in most cases, this will set you up for an overpriced localization. Instead, think of it this way:
If you have a source text with unique, brand-messaging that you are happy with, we highly recommend you go for Localization. Localization professionals are aware of how to maintain your original brand-messaging and know how to tweak it so that your target locales will get that native brand experience. Remember, you are the expert in your industry and aware of the aspects involved in your business. So, why invent if you can innovate?
If you have a source text but you are not happy with it, sit together with your team and spruce it up a bit before starting the process of making it multilingual. See how you can improve its style so eventually, the overall content conveys your marketing messages, goals as well as your corporate identity. Localization providers and/or marketing agencies can assist you with content creation and improvement so it is eventually aligned and satisfies your objectives.
There is some risk in relying on transcreation for some types of marketing content, more specifically the content that reflects your value props, corporate identity, and other specifications related to the industry you operate in. Although research is a solid part of the transcreation and creating a creative brief helps transcreators to wrap their heads around your branding strategy and understand more about your marketing content preferences, you are still the expert in your industry and more aware of your buyers' personas.
If you have no source text but you want targeted messages with the help of native copywriters, you will require transcreation. For example, if let's say Germany is one of the countries that you target and you want to push some promotional content exclusively for this market. It doesn't make sense to create content in English and localize it later. so, you can get started with transcreation directly.
Source Text Or Not, For Transcreation Services You Always Need The Creative Brief!
If you have decided that transcreation is the best option for you, you will need to provide your Language Service Provider (LSP) with a Creative Brief. Even if you have a source text! A Creative Brief is a document used to guide projects in the right direction by providing specific insights into the project goals. They are used in most creative projects from design to copy and advertising. Since Transcreation can easily encompass all of these elements, the Creative Brief is an essential point of reference for transcreation just like it is for copywriting.
The Creative Brief outlines a clear idea of the concept behind your content and the emotions, ideas, and actions you wish to trigger in your audience. It is important that if you wish to contract and LSP for Transcreation, you sit together with brand experts and put together any information you feel expresses your brand and the business goals you have in mind for each specific locale.
Have a look at this step by step guide to form a clearer idea of what a Creative Brief involves. We have included key questions you will need to answer in order to communicate with your LSP in the clearest possible way including your target audience, content formality, possible competitors, and your call to action.
Not sure when transcreation
is the best way to go?
Get your free guide to help you make the right choices!
Transcreation Can Cost A Pretty Penny
Another reason to make sure you are committing to the correct service, is to understand that each service is charged differently. If you select the appropriate one, you will not be paying too much for a service you actually do not require.
Translations, for example, are rated per word. Plain and simple. The eventual price tag will depend on the amount of words you get, and some technical aspects such as the type of content and language pair (less common languages will cost more based on the availability of experienced linguists) can bring up the actual rate.
Localization and transcreation, on the other hand, can't just be rated per words since more than one service is involved in the process. Software or game localization, for example, localization engineering, QA, etc.. Transcreation won't require this level of technical input, but it does combine the efforts of linguists, copywriters, and marketing experts. This is why both of these services are charged per hour or per project.
And since transcreation can't just be achieved through a mere exchange of documents, the price tag can get even steeper than localization. This is because:
local creative writers and copywriters are set the task of generating a branded message, not only translating one.
For any transcreation project, but especially those without a clear source text, there is a learning curve and extensive researching a few review stages and that's why it is a time-taking task of course
Conclusion
If you invest effort and time into creating beautiful marketing content, and it is not tied around complex marketing messages associated with slogans, expressions then localize it to transform your content multilingual, scale it and focus on delivering the message to end customers. Think innovation instead of reinvention and try to nail that key-balance quality, velocity and cost.
So, do you need transcreation services? We hope you can answer this question now. What matters the most is to truly understand the services that are out there, and to select the one that serves your needs the best. Transcreation may have a booming image, but that doesn't make it the best service for you.
At Laoret, we offer translation, localization and transcreation services tailored to your goals, brand, and industry. Our native, in-country specialists are available around the clock and will deliver high quality, targeted content within your timeframe.