How To Hire The Best Translator For Your Budget And Strategy?
In our series on hiring remote workers, we focus on hiring for specific positions and also offer valuable insights into the state of remote work in the translation industry and how you can manage your remote teams. So, today, we will be talking about those crucial contributors to your top remote team: translators
How can you hire a top translator? Which qualities should they possess? What should you be looking out for? And how can you decide whether a Language Service Provider (LSP) or freelance translator is the best way to go for you?
This Is How You Find Top Quality Translators That Will Expand Your Business
So, how can you hire the perfect translator(s) for your translation and localization project(s)? Well, it will require some work on your end as well as theirs. Of course, your translator will need to have certain expertise and qualifications that are indispensable, but this is not everything. In order to attract the best possible talent, you will need to do some prep work of your own and also possess some understanding of which services would benefit you most and why.
Figure Out Your Translation Strategies Beforehand
First things first! Before you get to hire a translator, you will actually need to get a few things out of the way. You will need to identify your own translation needs and figure out whether you would prefer to work with a freelance translator or an LSP.
For example, let's suppose you are looking to localize your website. In order to make the process run more smoothly, you can simplify it by prioritizing translatable content early. How? Pay attention to the following:
Think about the buyer's journey. Where will your visitors be spending most of their time? What matters to them most?
The navigation menu, product descriptions, and any form of checkout or purchasing producers should be among the first features to be translated.
Test the performance of your translated content and adjust your strategies accordingly.
Beyond the content, you should also determine what specific changes your target audience would need. For example, you should ask yourself:
How does my target audience prefer to communicate? (Email, social media, Forums, Live Chat, …)
What is the most commonly used browser? It may not be Google!
What are my target audience's preferred payment methods?
Now, who's going to offer you the right support? A freelancer or an LSP? Have a look at the pros and cons of both!
The Pros and Cons of LSPs
LSPs are perfect if you have high-volume content that will also require some technical expertise since not only translators, but also Localization Engineers will be part of the team and tools will be leveraged.

Since LSPs leverage a large pool of translators, it is easy for them to find the perfect one that matches the area of specialization of your translation project in a fraction of the time.

Quality LSPs make sure to maintain the Translation standards through consistent QA and a streamlined translation process.

If your project is a small one where no additional services such as proofreading, desktop publishing, or localization testing are required, you won't need a multidisciplinary team.

If you have a one-time project and don't intend on making use of technologies that can save money in the long run, a freelancer may be more convenient.
Hire freelance translators, yes or no?
You will be in full control of translator selection. When you hire an LSP, you will likely be in touch with a Project Manager and never speak directly to the translator.

Smaller projects will be a lot cheaper for you.

You can build a personal relationship with your translator.

If your projects are more complex, the turnaround will be higher and the end results less qualitative since there won't be a specialized team and advanced tools won't be leveraged.

While you may be in full control of the hiring process, it may take you a while to find the perfect translator.

A project manager of an LSP, on the other hand, has the expertise to make the right selection based on specific criteria.
Know What A Qualified Translator Looks Like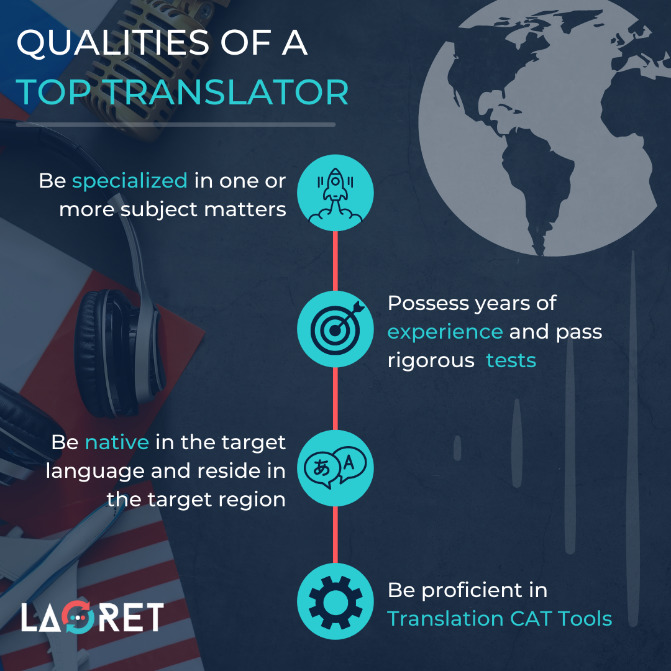 So, what does a qualified translator look like? Whether you have decided to opt for the LSP option or hire a freelance translator, you should know what they have to offer and which qualities they need to possess in order to provide you the best possible service. For a translator, this includes:
Being native in the country and region the content is intended for.
Having specialized knowledge of the content types that will be handled, whether it is for software localization, website localization, interpreting or even mobile app localization.
When working with an LSP or even if you have them, it would be great if the linguist has knowledge of technological tools that help support the translation process. However, this is a more important category for an LSP to pay attention to when they hire translators for specific projects.
Pro Tip! Translators will almost always be remote workers since the best ones reside in the target locale. But if you are looking for a translator to join your remote team, you may face some challenges on how to get everything organized. Check out our blog on How? ?To? ?Communicate? ?Effectively? ?With? ?Multilingual Remote? ? Staff ?.
Are You Going For An LSP? Then Confirm Their Credentials
If you have decided that an LSP is the way for you to go, there are certain things you should keep in mind. You'll have to make sure to select an LSP that is ISO-Certified and capable of providing professional translations in your target language(s) with a keen insight into the market(s) you intend to expand into. Keep an eye out for the following qualities!
They provide info on how they select their translators, and it matches the above-mentioned criteria. They should be subject-matter experts, be native in the target language, and reside in the target region. And yes, make sure that they are open about having strict hiring policies!
Confirm that the LSP is specialized in your industry. This is the only way they will be able to provide the best translators for your industry, if they possess a profound knowledge of it themselves.
Make sure they are tech-savvy and promote the usage of Translation CAT Tools and Translation Management Systems to speed the process along and also save you money in the long run.
Familiarize Yourself With Services And Rates

When you have prepared your strategies, decided on whether to hire an LSP or a freelancer, and are familiar with the qualifications of both, it will help you to understand which types of services would benefit you most and what kind of price tickets are tied to them. For example, many of our clients require Transcreation Services while Localization Services would suit their strategies much better. In this case different types of linguists with different rates will also need to be called in. Any LSP worth their salt will be happy to guide you in the right direction, but it will be good for you to understand the value of each service and how they can benefit you.
Pro tip! Wondering about how much you will pay for certain translation & localization services? Learn more about the costs of Machine Translation Post-Editing, eLearning localization, Website Localization, and video game localization.
Additionally, you should be aware of how the costs for each service will be calculated so there will be no unpleasant surprises. To that end, make sure you talk with your LSP or translator and, if you are planning on sending through more projects in the future, try to negotiate a favorable rate from the start.
Pro Tip! Looking for a complete overview of how you can budget optimally for your next translation project? Check out our blog How To Cost-Control Your Translation Needs To Fit Into Your Budget For 2021!
Conclusion
Are you ready to hire your next translator? Remember. First, get some clarity on your content goals and decide whether you would benefit most from an LSP, or a freelancer. Next, you should understand what a qualified translator looks like and also be able to identify the right LSP for your project needs. Finally, make sure you understand how some of the most common services will benefit your strategies and what would be most fitting for your budget as well.
That is why at Laoret, we hire in-country, native professionals who possess targeted subject matter expertise. We leverage the latest translation technologies to ensure translation quality as well as speed and apply rigorous QA on every level. Contact us and get a free quote for your next localization project and take the first step in developing a localization business strategy!