The Human Element of MTPE
As the demand for breaking language barriers and multilingual content continues to grow business-wise, embracing machine translation has become an integral part of any ambitious business expansion strategy.

However, machines can't solely provide businesses with the needed quality of translation to pull it off in international markets. While they can provide a valuable starting point for translations, the human element ultimately ensures much-needed accuracy, clarity, and cultural relevance.
And here comes the crucial role of machine translation post-editing.
Let's face it; without the human touch, MT would simply not be as effective or reliable as it is today. That's why we will dive more into the world of machine translation post-editing, exploring its types, benefits, and best practices. Ready to kick off?
What is Machine Translation Post-editing?
MTPE is the process of refining machine-translated text to ensure accuracy, fluency, and readability.

This technique aims to produce results as precise as human translations, combining the MT engine's speed and consistency with human translators' expertise and creativity.

Essentially, MTPE is the fastest solution to get the high quality you opt for without taking the time commitment required by a human expert starting from scratch.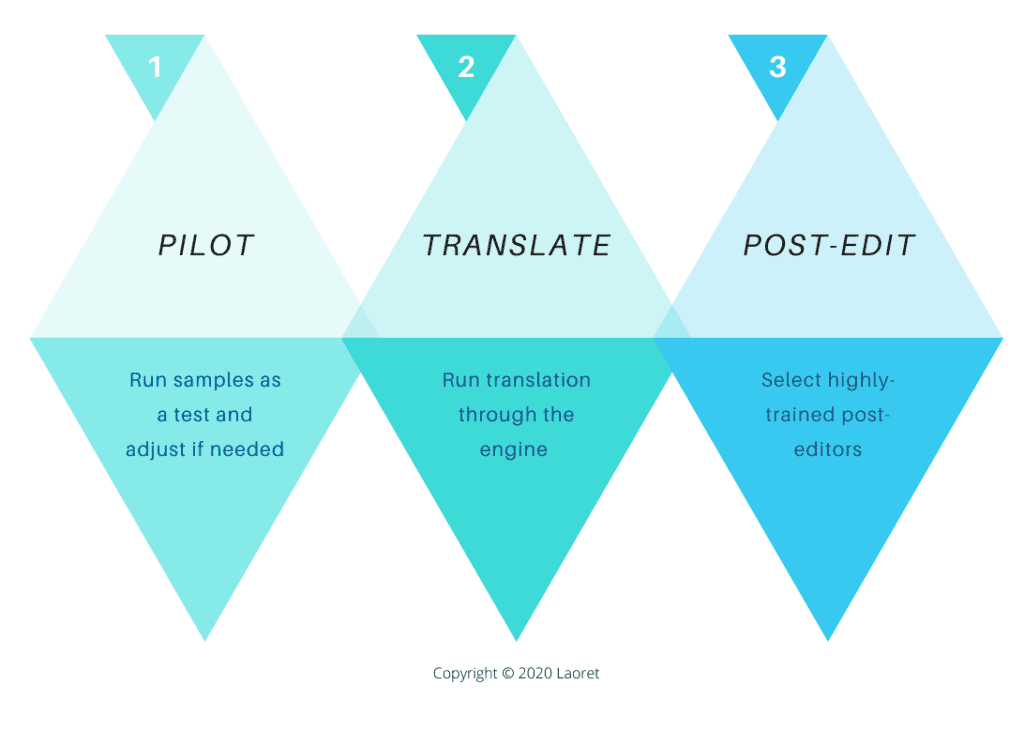 In MTPE, post-editors focus on typing errors, grammar mistakes, flow inconsistencies, clarity, tone, and every other linguistic aspect that may compromise the quality of the output.

But that's not all.

Post-editors essentially focus on verifying the technical integrity of the content, ensuring that the information involved is technically precise and makes correct and context-based industry-specific terminology, consistently.

Additionally, post-editors infuse the content with nuance and local resonance. This adds relevance that appeals to local audiences better and elicits the same emotions and response as the original audience.
According to Coursera Impact Report, in 2016, approximately 21 million students enrolled in Coursera's online courses, and this figure increased yearly by around 7 million over the following two years.
However, with the onset of the pandemic and the shift to remote working, there was a significant increase in new registrations, resulting in a three-fold increase.
In 2020, the number of new registrations climbed to 71 million, and by 2021, it reached an impressive 92 million.
Types of Machine Translation Post-editing
Before we explore the types (and levels) of editing involved in MTPE, let's have a look at the most common machine translation mistakes: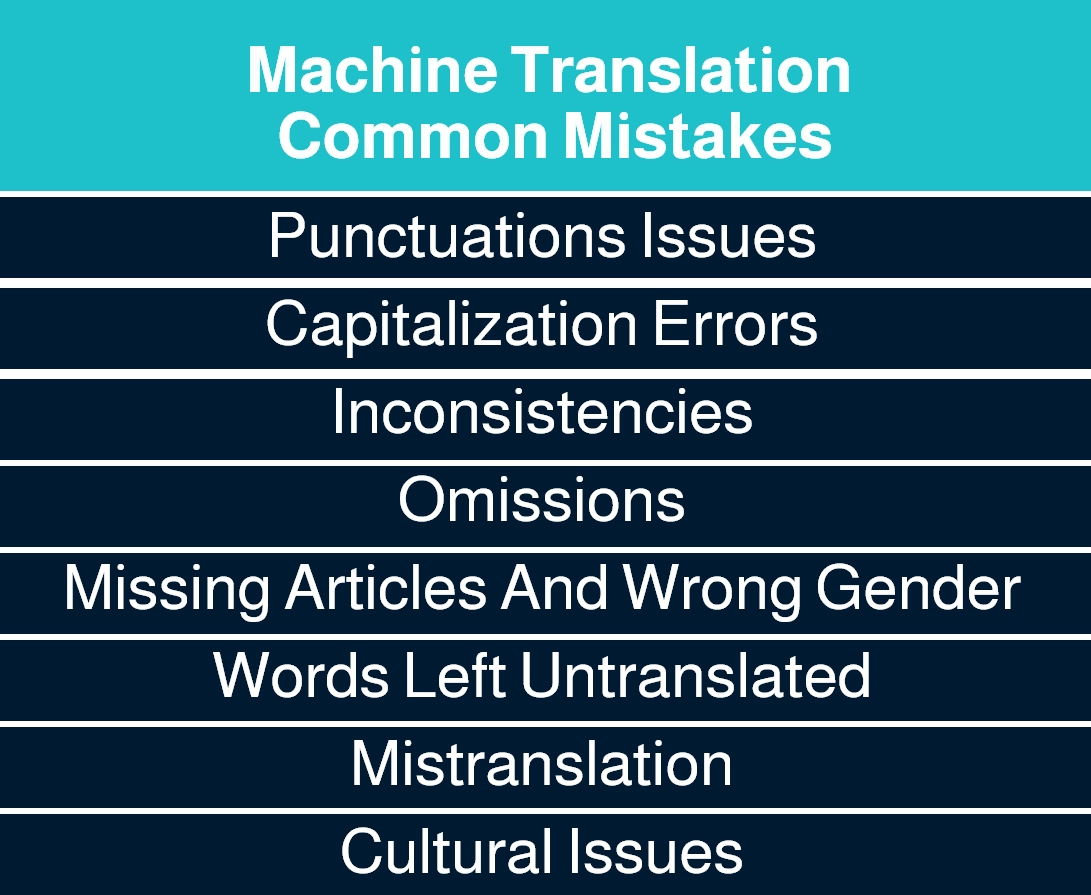 To fix these mistakes, there are two types of machine translation post-editing MTPE services. When it comes to starting your MTPE project, it's crucial to pick the right one for your business based on your budget, needs, desired quality, and schedule.
Here are the types to choose the right approach for your business:
➦
Light Post-editing
It's the process of making minor critical adjustments or corrections to machine-translated content to ensure conveying the source text's meaning and the MT output's clarity.

With this approach, post-editors check grammar, typing mistakes, and terminology usage as well as handle missing translations, mistranslations, misinterpretations, and ambiguities.

➦
Full Post-editing
It's the process of making significant adjustments to the machine translation, not leaving any errors behind.
Here, post-editors transform a machine-translated text into a humanized translation as if a human expert worked on it from scratch.
This involves not only correcting grammar and syntax but also making sure the translation accurately conveys the intended meaning and tone of the original text.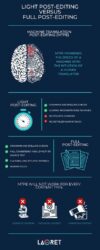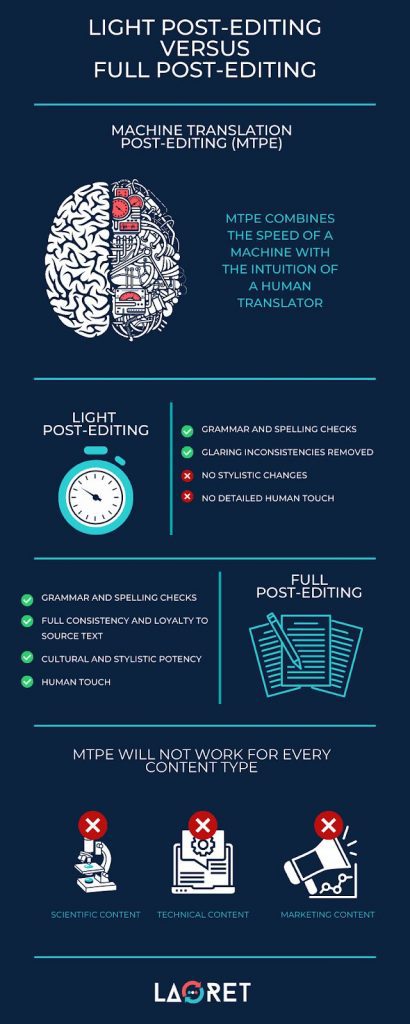 3 Key Benefits of MTPE
MTPE is an ideal solution for anyone who needs to translate content quickly and accurately.
Here are the benefits of Machine Translation Post-editing:
➦

1. Faster Turnaround Time

On average, translators can translate between 2000 to 3000 words per day, according to Proz translators. However, this rate may not keep up with the increasing demand for fast translations.
As our world becomes more interconnected, the need for speedy translations will only continue to grow, making machine translation tools an indispensable resource for individuals and businesses alike.
Honestly, businesses need to be able to communicate with people from all over the world quickly and efficiently. And MTPE offers precisely that. Rather than translating a project from scratch, MTPE allows for a significant time-saving advantage, bringing the best from both human and machine translations.
➦

2. Cost-efficiency

Machine translation post-editing is the MOST AFFORDABLE way to get high-quality translation. Compared to traditional translation, MTPE rates are cheaper.
And that will enable you to save money for future business decisions and ultimately helps your bottom line.
➦

3. Accurate and More Natural-sounding Translations

Despite the advances of machine translation, they will never be able to imitate the human ability to produce reliable, natural-sounding translations.

Without MTPE, you will only get robotic translations that lack the cultural understanding necessary to capture your audience's attention and hearts.
To achieve precise and meaningful translation, it is imperative to enlist the expertise of a proficient human translator capable of effectively conveying text from one language to another. And that's what you get with machine translation post-editing, taking advantage of both human and machine abilities.
Tips on How to Effectively
Work Together with Your Post-Editing Team
Check our ultimate guide to Machine
Translation Post-editing to get more details.
How to Nail Machine Translation Post-editing?
When it comes to post-editing machine translations, there are a few key strategies to keep in mind to ensure you nail the process. Implementing them from the beginning can significantly help you down the road to 100% successful and reliable MT translations. Here are the best practices of Machine Translation Post-editing:
➤ Prepare Your Source Content
As a good rule of thumb, working with a well-prepared source text will ensure fewer errors occur from the machine side.

For MT to function effectively, it is essential to have a source text that is clear and simple. So, pre-edit the original document and never overlook this step; it can save you a lot of time and effort down the road. And here are some guidelines to follow in order to maximize the MT output's quality: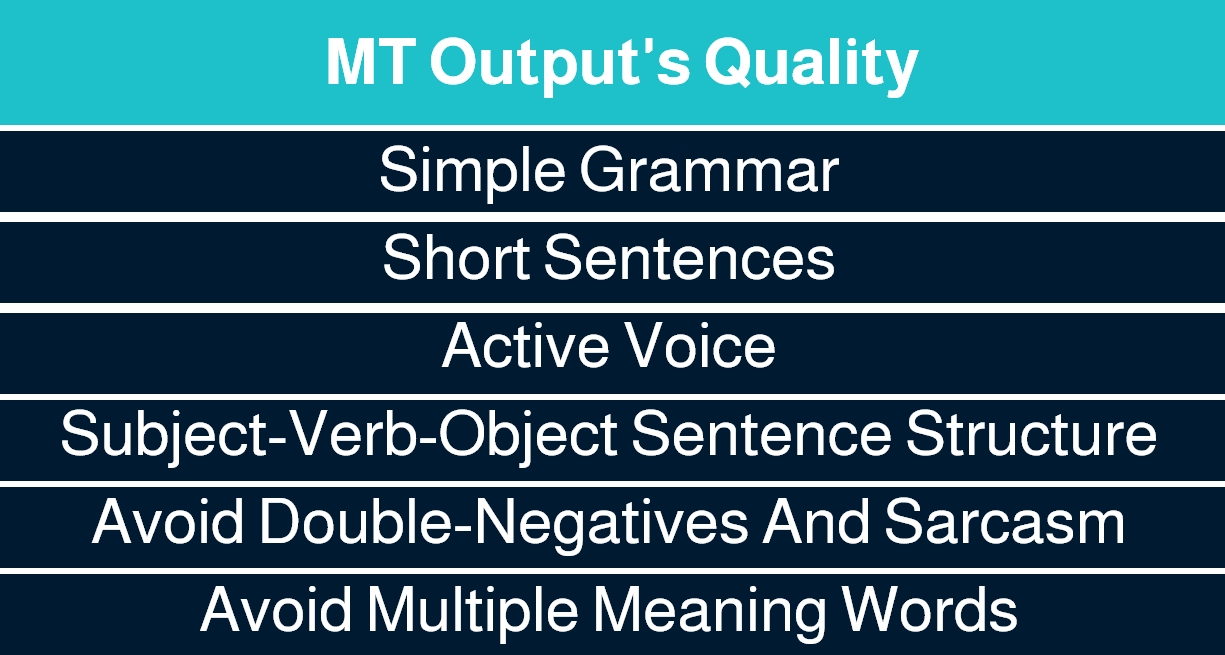 ➤

Pick the Right MT Engine for Your Subject Matter and Language Pair

Not all engines are created equal, and some may produce more accurate translations than others, depending on the subject matter and language pair in question and, most importantly, the level of accuracy required.

That's why it's essential to test the water by checking multiple engines and comparing their outputs before making a final decision.Ultimately, investing time and effort in selecting the right MT engine can save you from costly translation errors and will undoubtedly facilitate the post-editing phase.
➤

Don't Forget to Train the Selected Machine Translation Engine

After selecting the most suitable machine translation engine, remember to feed it with the necessary data, such as glossaries, translation memories, and termbase, to increase the MT's probability of producing more accurate translations.
➤

Choose Professional Machine Translation Post-editing Services Provider!

Once you choose a trustworthy machine translation post-editing services provider, you are halfway through achieving your goals and attaining your global aspirations. Why? With an expert language services company, you will be able to access a vast pool of hundreds of language experts and post-editors for your translation projects, meeting your most urgent needs. Don't settle for anything less than the best regarding translation services – choose a provider you can trust to deliver the results you need. They possess the expertise and experience to ensure that your translations are precise, dependable, and customized to meet your requirements.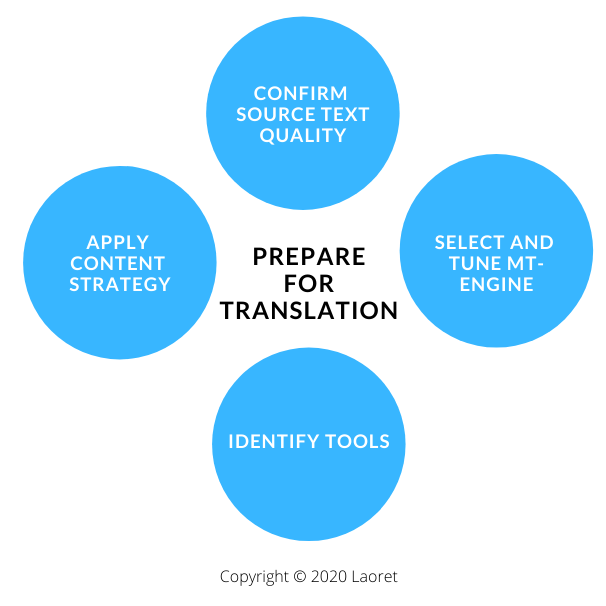 Need an immediate translation or post-editing support? Laoret is ready and 100% prepared for the most complex translation projects, covering your needs in 120 languages. Our team of expert linguists, post editors, testers, project managers, and more are always on standby and eager to assist you in your global journey.
For over a decade, we have assisted thousands of companies striving for global success in establishing their success stories. With the most qualified teams, processes, and technologies, we embrace translation projects of any industry, working towards one aim to maximize your impact globally.