Super Bowl LVII: A Celebration of Diversity in Sports
Sports have the power to bring people from diverse cultures together. Especially when organized at a national, or international level, participants can share a common experience that breaks down cultural barriers and celebrates inclusiveness and human achievements.
One of these multicultural sports events is the Super Bowl which started as an annual tradition 57 years ago to only become one the most celebrated world events that goes well beyond the borders of the United States or sports.
In Super Bowl history, the 2015 edition broke records by attracting 114.4 million views in the USA and more than 30-50 million globally.
Each country's most prestigious broadcasting channels compete for the rights to broadcast live the Big Game. Brands, as well, work for months and invest millions of dollars to air short ads during the Super Bowl because they know the power it has to help reach a massive audience worldwide and leave a lasting impression.
In this article, we focus on the global Super Bowl LVII coverage and how it engages interpreting services that break language barriers between minorities within the United States and the rest of the world.
Super Bowl History Overview
Super Bowl is the epic multicultural event that concludes the annual championship of the National Football League (NFL). The tournament comprises of four-game pre-season, a 16-game season that determines two finalists, and a single-game elimination postseason.
The full broadcasting lasts an estimated 3-4 hours, in a captivating American football match that draws in even those who are not sports fans. The football game itself consists of four 15-minute quarters, with electrifying intermissions that include commercials and live performances.
Throughout Super Bowl history, many legendary NFL players have left a lasting impact with their iconic performances. According to Forbes in a survey in 2020, 43% of the viewers see the match as the most important part of the Big Game, followed by 22% that watch it for the ads and 16% for the Super Bowl halftime show.
In 2022, some of the biggest brands in the world paid a total of 6.5 million USD to air a 30-second commercial during the Super Bowl LVI, while in 2021 the total was 5.5 million USD. Anheuser-Busch claimed the top spender in ad spending with an investment of 52.25 million USD, followed closely by Pepsico which spent 27.5 million USD.
The Global Reach of the Super Bowl
According to the New York Post, the cost of a 30-second Super Bowl commercial has now risen to 7 million USD. Despite its focus on sports, the Super Bowl has become a long-awaited event due to its commercials, which engage a diverse audience like no other.
Statistics from the NFL estimate that ? of Americans watch Super Bowl LVI. According to Nielsen research, 12% of Hispanics and 11% of African Americans watched or listened to the game last year.
The large viewership of the Super Bowl broadcast makes it a valuable investment for brands looking to maximize their advertising budget and generate substantial profits. Whether launching a new product, building brand recognition, or increasing profits, the Super Bowl offers a unique platform for brands to make a big impact.
This also implies that these brands must make genuine efforts to connect with multilingual audiences by properly localizing their ads through marketing translation that is attentive to cultural sensitivities.
Super Bowl LVII will be broadcasted by Fox and streamed on NFL+. Fox Deportes will bring the Big Game in Spanish for the country's large Latino population, using the best sports commentators and high-quality Spanish translation services.
Each country has its own broadcasting channels with commentating in the local languages. In Canada, TSN and CTV will broadcast the game in English, while RDS is in charge of the French broadcast.
Furthermore, it is customary to have American Sign Language (ASL) interpreters available throughout the game for those who have a hearing impairment disability. As of 2022, ASL talents and entertainment are also included in interpreting the majestic American Anthem and other patriotic songs.
Brands, on the other hand, help to make the Super Bowl an inclusive event. They have raised awareness about racism and social inequalities between minorities in America by constantly adding bits and pieces of political and social messaging.
During the 2014 Super Bowl broadcast, Coca-Cola ran a 30-second, 4 million USD ad in which the song "America is Beautiful" was sung in English alongside Tagalog, Mandarin Chinese, Hindi, and Keres, a sub-dialect spoken in New Mexico.
Interesting Facts About the Big Game
Super Bowl LVII
: When, Where Who, What's in Store
This Super Bowl Sunday, February 12, 2023, at 4:30 PM Eastern Time, the State Farm Stadium in Phoenix, Arizona will be filled with approximately 63.000 excited American football fanatics, while millions will be tuning in from homes and streets all across the United States and the world.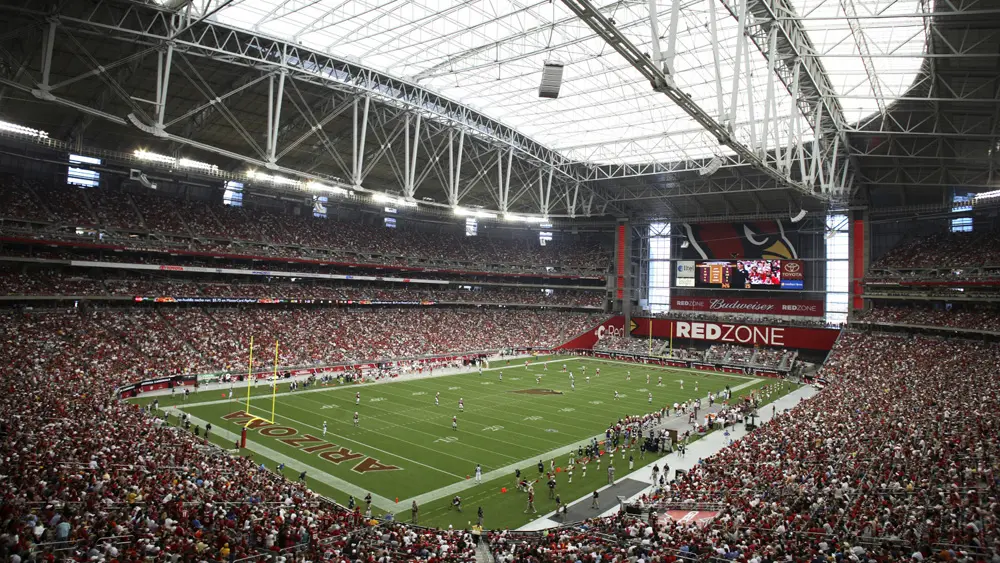 Finally, the Vince Lombardi Trophy will be lifted by either the Kansas City Chiefs or the Philadelphia Eagles which will meet to show their best performance.
The American anthem will be performed by Chris Stapleton which will be one of the most anticipated moments of the Super Bowl LVII. Babyface will sing "America The Beautiful" while Sheryl Lee Ralph will perform "Lift Every Voice and Sing". The Super Bowl halftime show will be sponsored by Apple Music and will bring on stage Rihanna at around 8:00-8.30 pm (ETS).
The National Association of the Deaf (NAD) and NFL announce that three Deaf performers will take part in Super Bowl LVII pre-game festivities. Troy Kotsur will perform the National Anthem in ASL, Colin Denny will blend ASL and North American Indian Sign Language for "America the Beautiful", and Justina Miles will perform "Lift Every Voice and Sing" as well as Rihanna's music in ASL.
With the increased focus on inclusivity and diversity, the Super Bowl coverage will showcase a range of cultural experiences and backgrounds. Thousands of people will flock to the State Farm Stadium in Phoenix to celebrate Super Bowl LVII and the American culture which takes pride in representing diverse perspectives and voices.
Fun Fact: The name "Super Bowl" became widely used in the media, despite Lamar Hunt, one of AFL's main funders and the person who suggested it, not being particularly fond of it. The name originated from Lamar's son playing with his Super Ball toy and was chosen over other options such as "The Big One," "Pro Bowl," "World Series of Football," and "The AFL-NFL World Championship Game." Hunt was also responsible for the decision to use Roman numerals instead of Arabic numerals when referring to the Super Bowl. (Time)
Not sure when transcreation
is the best way to go?
Get your free guide to help you make the right choices!
Conclusion
Super Bowl LVII is a reminder of the importance of inclusivity and diversity in all forms of media, including sports. With an increasing number of multilingual audiences worldwide, organizations must invest in professional translation services. Consider partnering with Laoret if you want to broaden your reach and engage with a global audience from media publishing to video game localization projects.
Don't miss the opportunity to connect with people from all walks of life and make a lasting impact. Contact us today.