Medical Translation Cost: A Smart Investment or an Extra Cost?
The healthcare industry is witnessing a surge in multicultural and multilingual patient communities. Immigrants, international patients, and non-native speakers frequently seek medical assistance, making it imperative for medical facilities to bridge the language gap effectively.However, they remain hesitant about integrating translation services, held back by their concerns about medical translation costs.

It's important to recognize medical translation as an investment in patient care and safety as well as the facility's compliance and reputation.
In this article, we provide real insights into how medical translation can be a smart investment, tackle 5 key factors that impact the medical translation cost, and provide some tips to help you tailor a translation plan that fulfills your needs.
Overview of Language Access in the US Healthcare System

From immigrants to refugees, the United States has long been recognized as a melting pot of cultures and rich diversity, making it home to a significant number of multicultural communities.
The thing that has a profound impact on its healthcare system.

And while it's easy to assume that those people communicate in English, spoken by the great majority of the US population, there are more than 350 languages spoken in the US.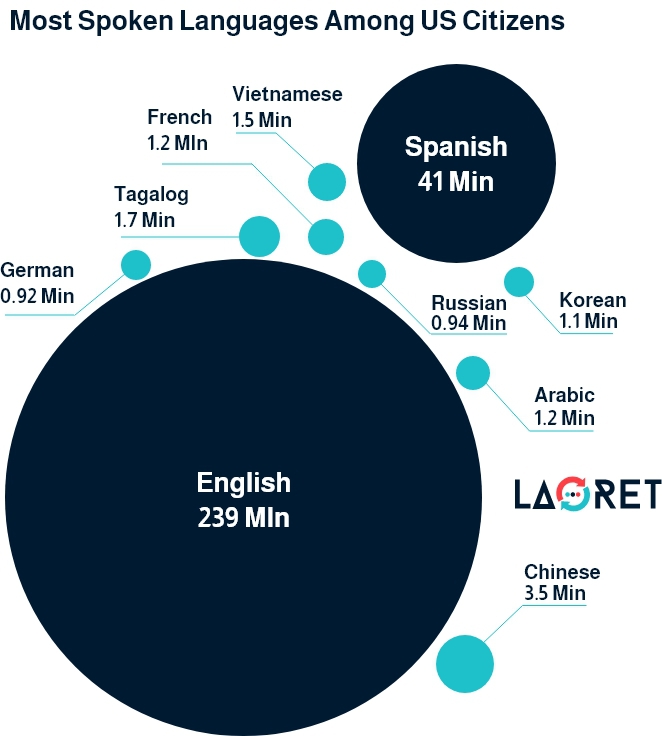 This diverse patient population has prompted healthcare providers to recognize the importance of language access in delivering health equity and effective care.
Here's a quick look at language access in the US healthcare system to get an idea of how much language services are pivotal.
People with Limited English Proficiency (LEP) make up about

8% (+25 million people)

of the US population.

According to a survey of Hispanic adults,

50%

of patients who faced communication barriers had access to professional translators from healthcare providers. On the other hand,

52%

relied on a family member or a friend. (Source:

Statista

)
About 69.1% of mental health facilities offer non-English language services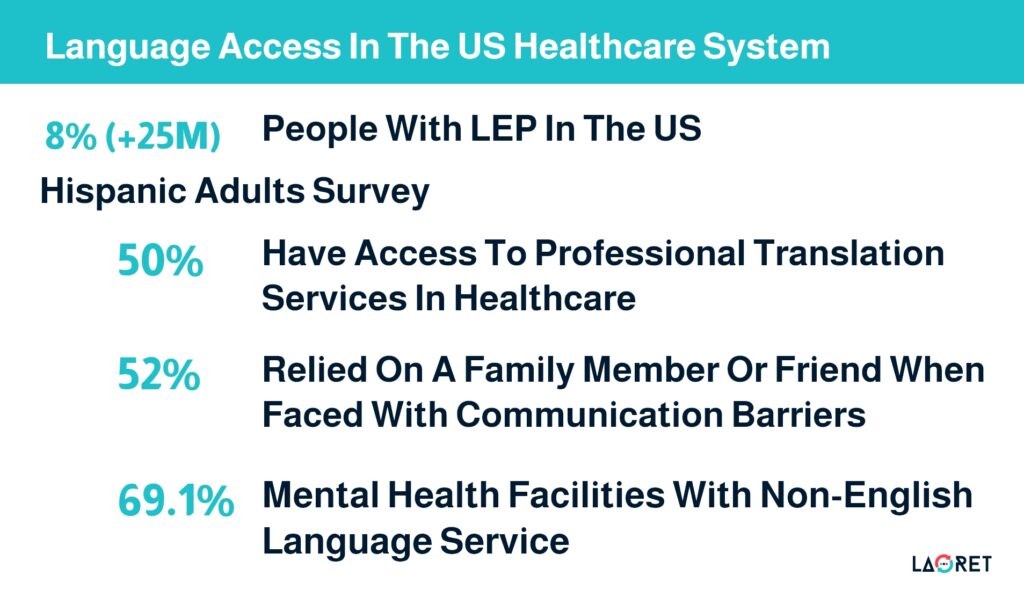 While these insights indicate that many LEP patients receive professional language assistance in medical settings, we can still see that a considerable percentage lack the same quality of language access.
According to the data, a large number of patients would rely on unqualified members for medical translations.

Now the question is: what would discourage medical institutions from enforcing medical translation and improving patients' experience? 
Well, there are mainly two reasons.
ONE: Some facilities don't quite see the real need for language access. And of course, no one is going to pay for a service they don't need or deem valuable.
TWO: Some medical institutions, however, are aware of their responsibility to provide language access and its value. Nevertheless, they fear medical translation costs and would much rather focus on the quality of other resources.
We get it! Partnering up with a reputable language provider sounds like a financial burden. 
But the truth is, language services offer numerous advantages to healthcare institutions and medical companies. From patient satisfaction to regulatory compliance – translation services are imperative to driving success and establishing trust in the medical industry. 
So, let's get into that real quick before we explore average medical translation costs in 2023.
What Makes Medical Translation A Smart Investment?
Many healthcare providers are uncertain about the benefits that language services could add to the success of their organizations given the cost of high-quality translation services.
But in reality, there are many advantages that significantly outweigh the costs.
For starters, it's mandatory to provide language access in medical care to comply with national laws and policies.
In the US, according to the Title VI of the Civil Rights Act of 1964, any healthcare facility or program receiving federal funding should provide language services to LEP patients. Otherwise, they could bear legal consequences for discriminatory acts.
By law, it's the patient's right to obtain medical information in their native language. This means that faithful translations of consent forms, prescription information, and proficient medical interpretation services are essential.
What's more, clear communication between medical personnel and patients is vital for 3 reasons:
Improves the efficiency of the treatment process.

Reduces patients' readmission rates.

Establishes trust in your facility.
Any miscommunication caused by language barriers could possibly lead to medical errors – which risks patients' health and impacts the reputation and legal standing of healthcare providers.

Patients worldwide seeking medical treatment abroad often prioritize facilities that can communicate with them effectively in their native language. From a business standpoint, language access promotes a patient-centered experience which is crucial for retaining and attracting patients and establishing professional trust in your medical facility.
A study shows that limited language access in hospitals lowers the quality of medical care that LEP patients receive, resulting in longer stays by 6% compared to English Proficient patients.
And finally, with medical translation serving as both a patient safety and legal liability risk management strategy, a medical facility can establish itself a reliable and internationally recognized institution.
This not only gives your facility an edge to attract international patients but helps you establish a strong global network of collaborations and partnerships – strengthening your position as a leader in the global healthcare landscape.
A Quick Look into Medical Translation and Interpretation Rates
For document translation, there are mainly two methods to calculate translation fees:
Word Rate: charges you per the number of words in the source document. Sometimes, however, it depends on the word count of the post-translation document. 
Page Rate: charges you based on the number of pages in the document. 
The size of the page, though, varies depending on the font size and page format affecting the total cost. So, it's best to determine what a standard "page†looks like before starting the project.
As for interpreting services, the cost varies depending on the type of service. For example, in-person interpreters are paid per hour or per day. While the cost of over-the-phone or video remote interpreting is determined by the number of minutes.
Pro Tip!

You can always consult with your language partner before starting the translation project and come up with the most suitable pricing plan for you.
Factors Impacting the Medical Translation Cost
Now, translation rates still vary depending on several factors, such as language pairs, medical translation types, and project complexity. Now, we will walk you through each factor and how it impacts the overall cost.
1. Language Pairs
For the most part, medical translation costs depend on the language pair you choose. And the rate of the language pair is determined by the law of supply and demand.
To put it simply, the more the language is in demand, the more translators there are, and the less expensive the translation is.

Take English and Chinese, for instance, both are at the top of the most widely spoken languages in the world. This means there are more native speakers than any other languages and most importantly wide availability of proficient translators who specialize in those languages.

This high demand and supply help reduce translation rates.

So, it is more common (and cheaper) to translate from English to Chinese or Spanish and vice versa — with Spanish rates averaging between $0.07 – $0.10 per word.

However, a language combination like Finnish and Swedish is considered a less common language pair with fewer language professionals who specialize in these languages. So you'll find that the average rate is between $0.12 and $0.15 per word.

To illustrate, let's look at the average rates for different language groups: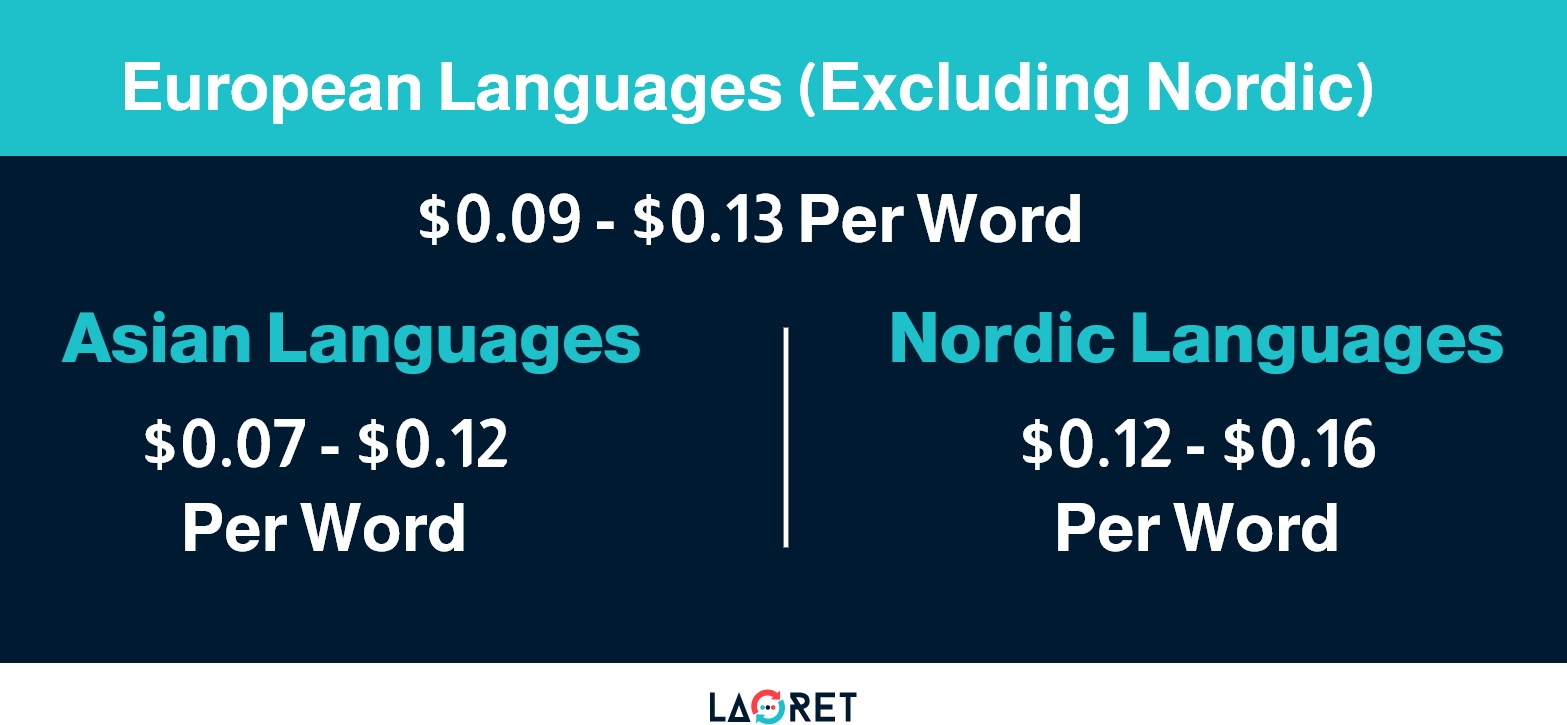 Disclaimer: These rates are the average standard. Medical translation costs, however, are subject to change according to several factors that we will explore in the following points.
What's more, translation prices may also change depending on the cost of living in some countries. So you might find different rates comparing European languages with Asian languages.
2. Translation Service Type
Another factor impacting the medical translation cost is the type of service. Medical translation services involve a wide range of language solutions, each designed for various needs and with unique processes and quality requirements that necessitate specific skill sets, often varying in price.
For instance, medical document translation covers a wide range of written materials that are the output of many intricate technical operations. From clinical research, and patient records, to medical device packaging and drug registration, medical documents require excellent language skills and in-depth knowledge of the specialization involved.

As for medical interpreting services, you need medically qualified and trained proficient speakers to facilitate verbal communication between patients and medical staff and correctly capture cultural nuances.

Furthermore, if you want to reach a wider scope of multilingual users through your website or medical software, you need a language provider that specializes in website localization services and employs experts in the medical field.
Website localization requires a cross-functional team of translators, reviewers, designers, and localization engineers. Also, it necessitates particular quality control procedures, such as linguistic and technical testing, to optimize the end-user experience.
A combination of technical and linguistic expertise is critical in these types of projects to ensure the accuracy of translated content, flawless cultural adaptation, and optimal functionality of user interfaces. 

Of course, each type of service demands a particular area of expertise and specific Quality Assurance procedures to ensure the quality of the service you receive. Naturally, the service and quality of choice significantly impact the medical translation cost.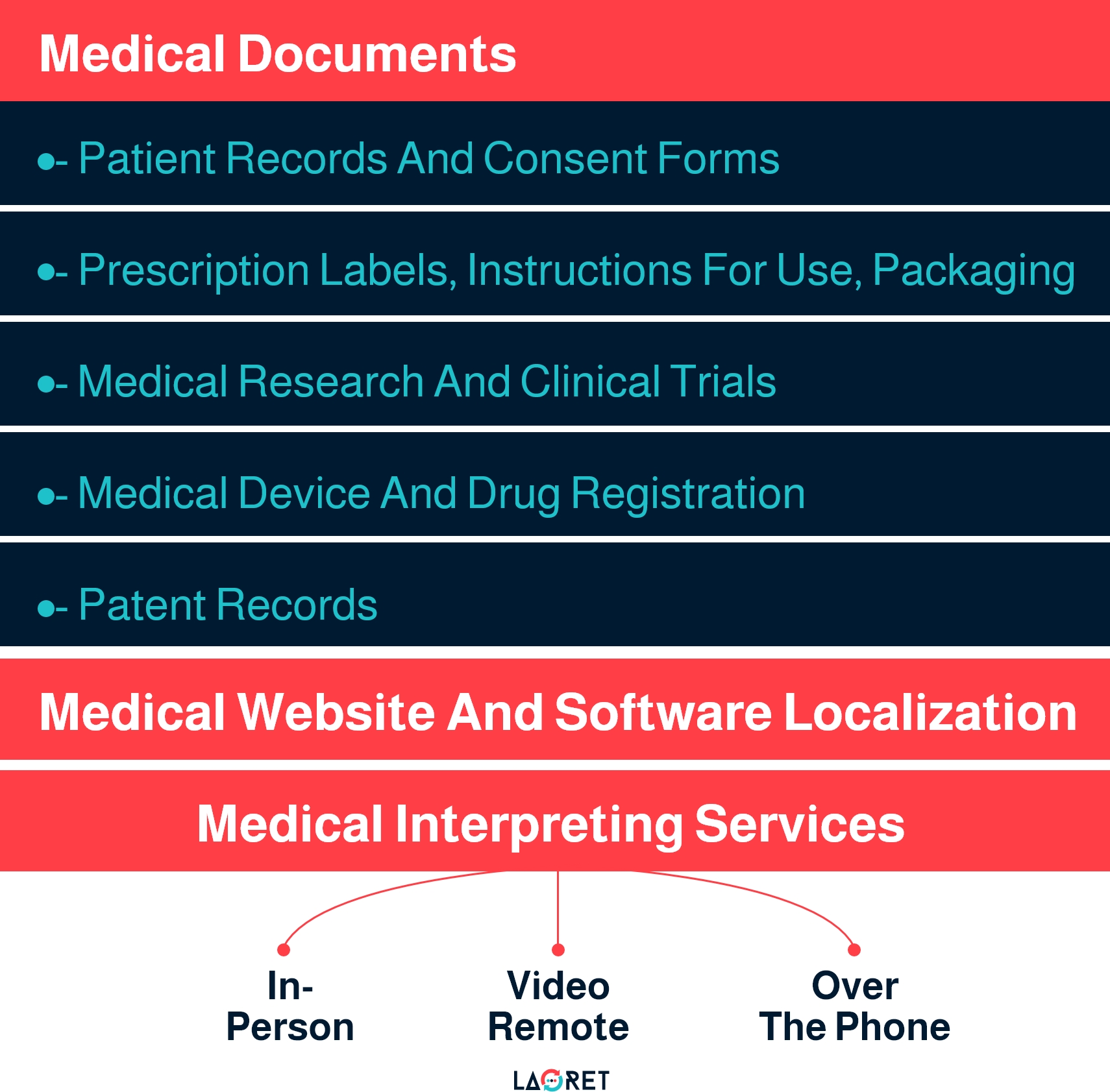 But how do expertise and quality contribute to the cost?
3. Quality and Expertise
Depending on the service of choice, most language service providers will perform crucial Quality Assurance steps. Of course, more quality control procedures incur extra costs.
But it's important to note that going for low-quality translations to save money, especially in heavily regulated fields like medical care and life sciences, is not a smart idea. Poor translations will only lower the performance of your organization leading to legal and financial burdens.
To ensure the utmost accuracy of medical document translation, language services go through the Translation, Editing, and Proofreading (TEP) steps.
For heavily technical medical fields, such as clinical trials and pharmaceuticals, it's imperative to conduct rigorous quality control measures like Back Translation and Linguistic Validation – which necessitate a large team of subject matter experts.
In this case, a team of translators and in-country clinicians works on the project to compare forward and back translations, then review the data and ensure its validity through multilayered and highly complex steps.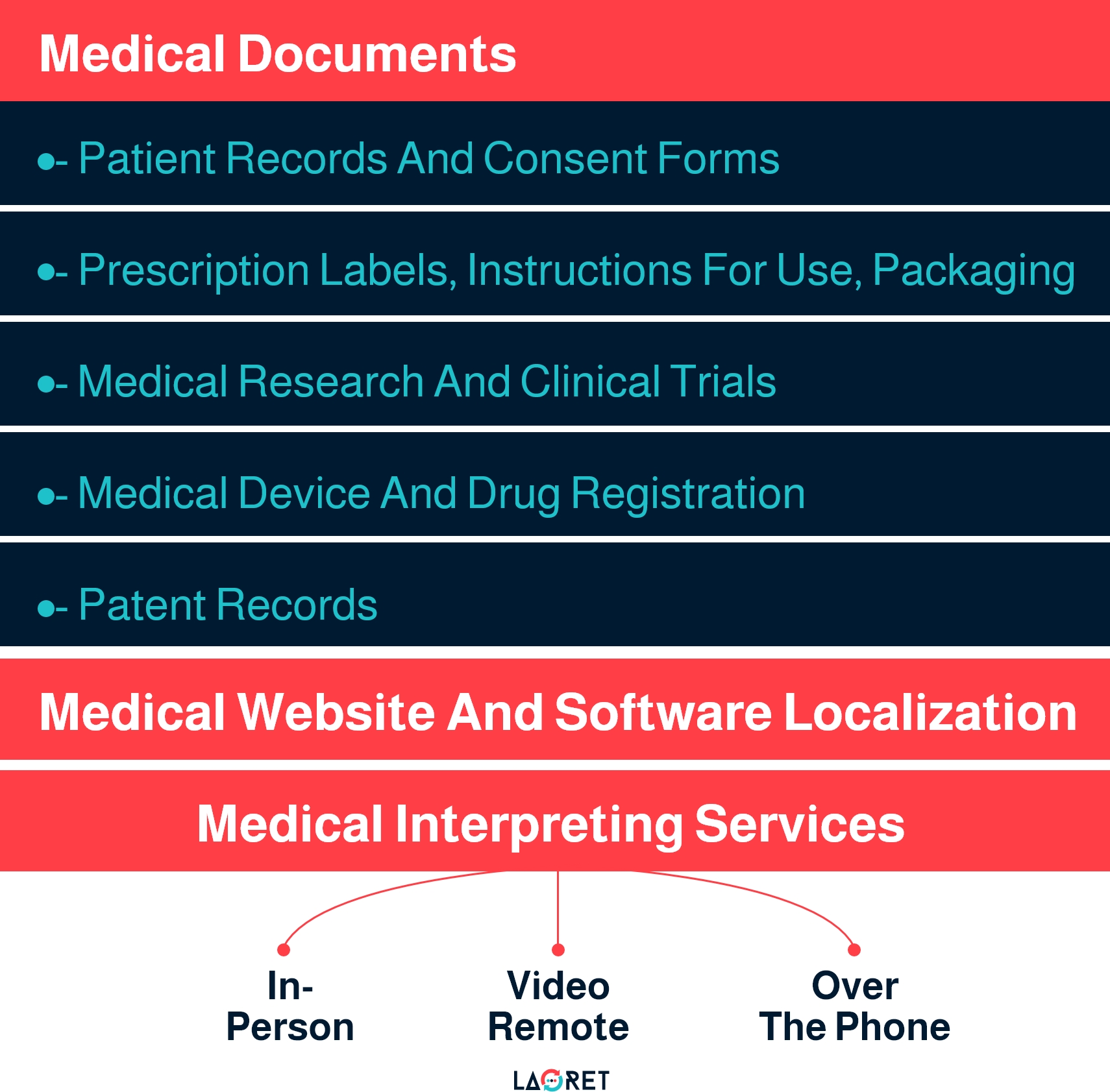 But how do expertise and quality contribute to the cost?
Pro Tip!

To achieve a balance between cost-effectiveness and high quality, medical institutions should identify their needs and determine which QA strategy suits their medical translation project.

(Read on to learn how to minimize the cost!)
Another thing to take into account is the certification and years of experience of your language vendor. A certified language service provider might charge more than a freelance translator, but will most certainly allocate the specialized linguists your project needs.
4. Project Details
There are additional factors that have to do with the needed resources to handle the project – which influence the medical translation cost as well. The level of complexity, quality steps, turnaround times, and project size are all factors.
A big translation project with large volumes of complex texts will need more resources and stakeholders working on it to deliver adequate quality in a timely manner – which naturally costs more than smaller projects and slower turnaround times.
5. Translation Tools
The use of translation tools significantly influences the medical translation cost as well.
As mentioned earlier, the more steps translators need to take to produce high-quality translations, the higher the medical translation cost. 
By utilizing robust Translation Management Systems and translation tools, your language partner could increase efficiency and reduce costs.

But how does that work?
Translation Management Systems (TMS) centralize, manage, and optimize the entire translation and localization process. A single platform to streamline collaboration between the teams and integrate effective translation tools, as well as automation features that maximize quality and efficiency. 
It supports CAT tools and Translation Memory (TM) software which stores previous translations and reuses them to translate repetitive content. In this case, your language partner will not charge you the same for repeated segments, which reduces the cost and time.
It's worth noting, though, that it's critical to use translation tools wisely. It can be alluring to rely on Machine Translation (MT) to reduce expenses. But without qualified human linguists performing post-editing and proofreading, you can endure extra costs due to translation errors.
So, it is essential to have a smart approach in mind!
You can check out our Online Ordering System to get an estimate of how much your translation project will cost according to your needs!
How to Minimize the Medical Translation Cost?
Now that we covered the important factors influencing the medical translation cost, we'll let you in on some tips to help you rationalize the cost.

There are some areas that you can control to smartly invest in the services you need.

Determine

the areas in need of translation services and analyze patient demographics and the current state of language accessibility they're receiving.

Identify

your needs and determine the type of translation service, language pairs, and volume of materials.

Streamline

the translation workflow by providing your LSP with glossaries, key documents, and style guides.

Consult with your language partner to tailor an optimized translation strategy that meets your needs and matches your budget.
Work with Laoret's Medical Translation Experts!
Laoret offers ISO-certified medical translation services in more than 120 languages with competitive pricing. 
With years of experience in the Medical and Life Science industry, we're dedicated to providing you with exceptional medical translation, localization, and interpreting services. Our multidisciplinary team of native translators and localization specialists possesses subject-matter expertise in all types of medical content.
We apply rigorous Quality Assurance procedures and international standards to deliver the highest quality possible and meet your translation needs.
Request a quote to learn how we can help you create a cost-effective medical translation plan tailored to your needs!
Tips on How to Effectively
Work Together with Your Post-Editing Team
Check our ultimate guide to Machine
Translation Post-editing to get more details.
Contact us today to explore how our professional subtitle services can elevate your multimedia content to new heights.