Dynamic QR Codes: Your Multilingual Audience Is One Scan Away
QR codes are pretty much everywhere these days. They offer a quick and easy way for users to navigate offers, information, and customer support on their phones.
But did you know that QR Codes can be a valuable tool for your international market expansion strategies? Let us expand on how the Dynamic QR code, more specifically the multi-URL QR code, can help you establish targeted messaging in new markets.
What Are QR Codes And How Can They Benefit Your Business?
Opting to use QR codes for your business can have multiple advantages. Especially in these times of increased online interaction and a desire for instant gratification. QR codes can take a user directly where they need to be to get the information or help that they need. Effectively using QR codes can help:
Simplify navigation where typing a URL is no longer needed.
Communicate vital information about a product the QR code is placed upon, where the user can access the product information without having to dial a helpline or open chat support.
Support the download of mobile apps more easily where users are taken to the app's download page straight away.
Users gain easy access to discounts and promotional coupons.
Bring users straight to a review page where they can browse customer feedback before making a decision. This can boost sales and user experience significantly since no less than 93% of customers read online reviews before buying a product.1
As you can see, these dynamic QR codes have great business potential if you want to take your QR strategies to the next level and actually benefit from them on a larger, even international scale. And when it comes to localization, the so-called multi-URL QR code offers the most interesting opportunities to support global expansion. Let's dig into this a bit more deeply!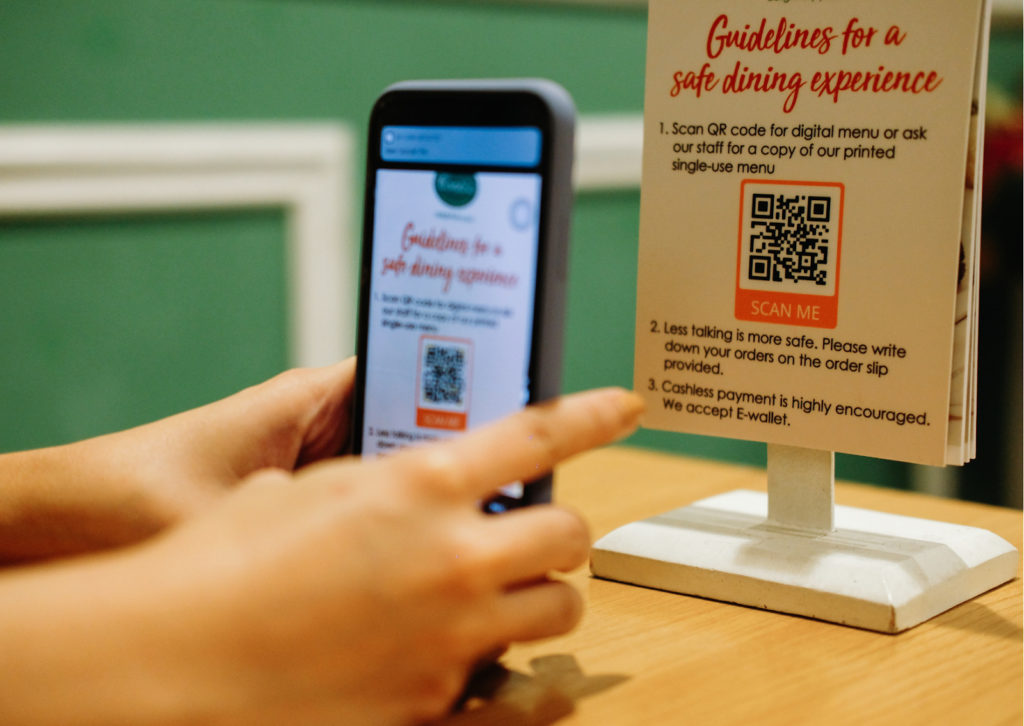 Multi-URL QR Codes: The Dynamic QR Code With Multilingual Applications
The Multi-URL QR code can provide users worldwide with a native brand experience. More specially, the multi-URL QR code can offer advantages based on the user's location and language.
This Dynamic QR code can be optimized with different URLs for different locations. Based on the user's geographical location, the user will automatically be directed to the website, landing page, or offer in their native language. This means that if, for example, someone in France scans the QR code, they will be taken to the version of your product that is localized in French.
Before we dive into specifics, in order to secure a native experience, it is vital that for every multilingual strategy you choose, you pay attention to the following points.
Make sure that you connect with a Language Service Provider (LSP) who uses linguists native to the area you intend to target. This means that not only the language but also the cultural values will be respected.
Check if the LSP also boasts technical authority next to the linguistic one. Most LSPs will offer you top language services, but only the best will also make sure that they can tackle any technical errors that may come their way. When translating websites, mobile apps, or even just when making sure that your site is responsive on mobile, this is of vital importance.
The LSP should leverage a top-of-the-line Translation Management System and Translation CAT Tools that can organize the workflow and also automate parts of the process. These tools are outfitted with the option for Quality Assurance (QA) and partial automation of the translation process, while glossaries and style guides ensure that approved translations remain in force and your brand voice is respected.
This CAT Tool is also optimized with tools such as a Translation Memory, which will maintain accuracy and consistency throughout the translation process and store translated terms so that you get charged less for them in the future.
When it comes to the multilingual applications of the Multi-URL QR code, we'd like to expand on a few ways that QR codes can truly help enrich the native user experience.
Build Traffic To A Fully Localized Website
When you place QR code to your website on a billboard, poster, or another type of ad, you are letting the consumer know that your site is fully available in their own language. If they like what they see, they can use the code to go ahead and explore your brand further. Of course, this means that you need to make sure your website is fully optimized for the language you are offering a QR shortcut to. This is where quality website localization comes in.
Website localization is the process of adapting your website to the language and culture of the market you intend to target. This means, it involves more than just translating the content, but actually adapting references, graphics, colors, formats, payment methods, and so on to the preferences of your new audience. Learn more about the ins and outs of the website localization process in our blogs: Website Localization Quality Assurance (QA): How To Get It Right and How To Use Machine Translation Post Editing For Your WordPress Website.
Landing Pages And Marketing Campaigns
Of course, if you have a specific purpose in mind, you won't have to send your potential new clients to your entire website. Instead, you can link the QR code to a Landing Page or Marketing Campaign instead.
If you are translating a landing page to a certain language and locale, the standard localization process will apply here as well where the language and culture are adapted in every possible way to connect with your new audience. That being said, marketing is a very personal thing, and it is possible that you have a whole different kind of campaign in mind for a specific region. This means that technically, you should start from scratch.
And since localization always needs a source text, you should probably consider Transcreation services in that case. Transcreation combines powerful multilingual messaging with copywriting, so you will not necessarily need to provide source content. You will need to create a killer creative brief, though! Learn more about this in our blogs What Is Transcreation And How Is It Best Managed? And Transcreation: When You Should Go For it And When You Should NOT!
Get Your Users Customized Customer Support
Don't let your potential new clients navigate to the Contact Us page themselves. Make sure you make it easy for them to reach out to you and make sure that you are sending them to a properly localized page.
But perhaps you have something a bit more personal in mind that still doesn't overwhelm you? Then you may want to send your user to a page where they can interact with a multilingual chatbot. Multilingual chatbots are poised to change the way we interact with the consumer who wants native support, but also at a record speed.2 In order to meet local expectations, consider translating the chatbot script to all your target languages.
The rise of multilingual chatbots also comes with an increased interest in Machine Translation (MT). But beware, only apply this where you can. Some content will require that hyper-personal touch to be successful, and other parts of the process just need to run smoothly to complete the buyer's journey in an effective way. Keep up with multilingual consumer inquiries using Machine Translation Post-Editing (MTPE). This means that the MT output will be submitted to human editing and review before being sent out.
Equip Your Product Packages With A Digital Product Guide
Of course, if someone is shopping and they want more information on the product they are holding, they will most likely not be looking for a chat support system or Contact Us page. And they may also not have the time or patience to squint and try to find the info they need on the package itself. So, why not print a QR code on your package that will offer the customer all the information they need in an easy-to-use and readable format?
Here, you also must take special care and make sure that you follow the technical translation requirements and local regulations so that your content is clear, concise, and legal! Learn more about the ins and outs of product packaging translation in our blog: Product Packaging or Product Listing Localization: What They Are And What You Need.
Conclusion
Dynamic QR codes can be an interesting partner for your international expansion plans. You can leverage the well-known perks of the QR code such as targeted and quick navigation, and adapt it to potential new clients across the globe. However, before you go ahead and create your QR codes, remember that every page, campaign, or site you link to, will need to be fully localized according to the highest standards, so that you don't estrange your target audience. The best way to do is, is to connect with a qualified LSP who knows how to create a product that is culturally, linguistically, and technically sound.
At Laoret, we connect you with a team of native, in-country linguists and tech-savvy localization engineers who can perfect any localization project from a linguistic, cultural ,and technical perspective.
That is why at Laoret, we hire in-country, native professionals who possess targeted subject matter expertise. We leverage the latest translation technologies to ensure translation quality as well as speed and apply rigorous QA on every level. Contact us and get a free quote for your next localization project and take the first step in developing a localization business strategy!