How To Use Machine Translation Post Editing For Your WordPress Website
How many languages do you imagine the most successful websites out there support? According to the 2020 Web Globalization Report Card, for the leading 25 websites, this amount comes to an average of 61 languages. Now, we are not saying you should get to it and translate your website into 61 languages asap in order to compete. But, we do want to make the case that a multilingual website and international success are intrinsically linked.
In order to guide you through the best practices to achieve global authority, let us expand on how you can best prepare your WordPress Website for the international market. Learn more about Machine Translation for WordPress and why Post Editing should be utilized to maximize the results.
Approach Your WordPress Website Localization With The Right Mindset
There are a lot of aspects and details to consider when approaching your website localization project in general. It largely depends on the scale, requirements, and complexity which may vary from one project to another, but let's try to break those down so you can understand how it works.
Your starting point should be looking for a way to export the content of the webpages in a translation-friendly format such as XLIFF (XML-based format). You will have to look for a suitable plugin to help you automate the process or maybe a translation connector if you plan to frequently push more content and updates to your website in the future.
Then, you will have to think about which translation tool (also known as a CAT tool) you will use for translation, set up the right linguistic team, and prepare the linguistic resources such as glossaries and style guides.


One of the common situations we have noticed in the past is that when a marketing team is in charge of this localization process, they tend to focus more on the linguistic part and neglect the technical one. On the other hand, IT and technical teams tend to focus more on the technical aspects but don't pay enough attention to the linguistic part. Both will face problems and most probably they will not get the best quality outcome because website localization is a collaborative process that combines both linguistic and technical efforts.
Maximize Machine Translation For WordPress Through Multilingual Optimization
WordPress is the fastest growing and most popular Content Management System (CMS), making up 36% of all websites. But, since WordPress only supports one language by default, it is important to understand which process will allow you to translate your website efficiently and accurately.
While publishing your multilingual content under subdomains will require you to manage all the updates and back them up, a translation-ready plugin may be a better solution to transform the same website into becoming multilingual. There are several Multilingual WordPress Plugins out there that offer a different set of useful features that may help you facilitate the process, but having a translation integration/translation connector can help you to translate directly from the String Translation interface structured within a Translation Management System (TMS), allowing you to efficiently organize your translation projects. But more interestingly, perhaps, is that some Plugins allow you to connect your website to LSPs (Language Service Providers) through integrated CAT-Tools so that translation requests can be communicated and shared with expert translators instantly.
Pro Tip! Laoret offers integrations between WordPress, TMS, CAT tool and MT-engines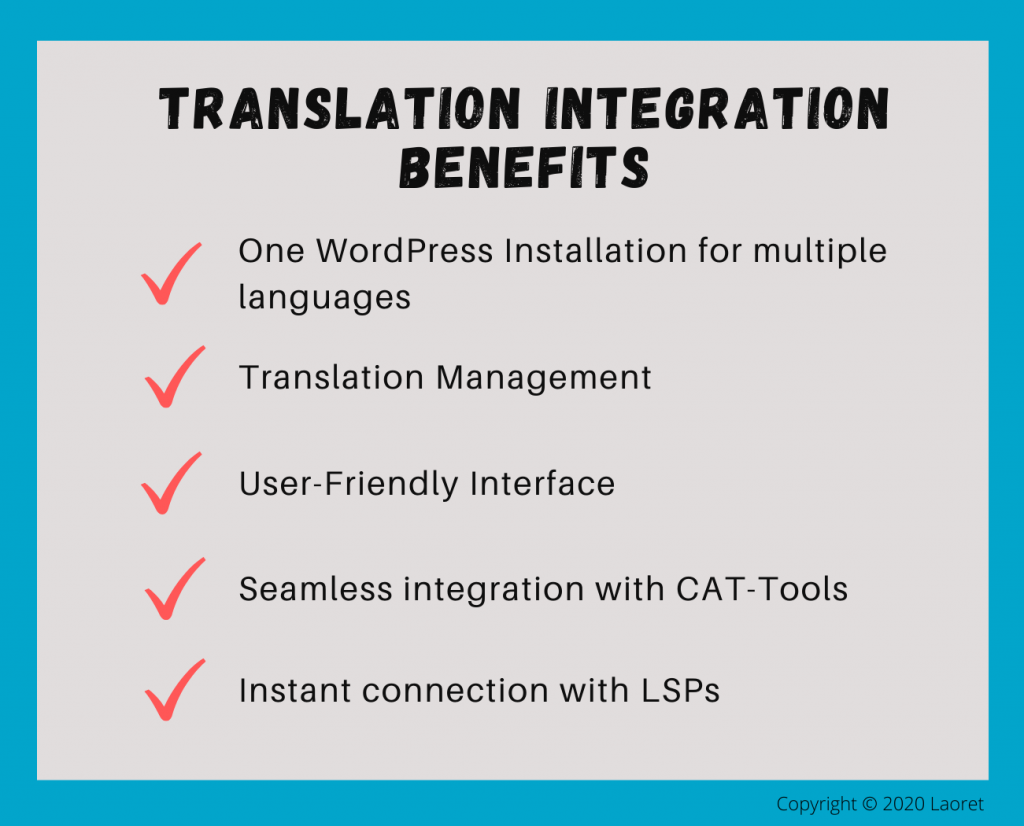 Machine Translation For WordPress: Best Practices
Machine Translation Post-Editing (MTPE) is all about combining machine speed with the linguistic and cultural potency of a human translator. In order to get the most out of the MTPE Process, your site needs to be optimized for implementation in the international market prior to the translation. After the translation CAT-Tool/TMS is integrated with your WordPress CMS, integrate the most suitable MT-Engine into your CAT-Tool, and ensure the most efficient MTPE Process by optimizing your workflow with:
Straightforward content in the source language with the use of active voice and accurate punctuation, making it easier to translate.
A style guide listing writing conventions such as a mission statement, Social Media guidelines, campaign briefs, editorial guidelines, and tone of voice.
The CAT-Tool enriched with a glossary (taglines, trademarks, SEO keywords, company values), and a Translation Memory (TM).


The Importance Of An Effective Multilingual Strategy
In terms of outlining an effective Multilingual Strategy, we further recommend that you think about the journey, not just the initial setup. Setting up a WordPress site is not your biggest challenge. Before you even submit content to your website, you should always keep User Experience in mind. Imagine what your audience will need to fully engage with your product, and plan a strategy to implement further translation and localization accordingly in terms of promotions, user guides, and anything else needed to promote your brand. Commit to keeping your site updated and with every installment and development, keep an eye on how it would make your future translations more efficient.
Key in respecting the position of MTPE within this Multilingual Strategy is in possessing the business intelligence to understand when to take full advantage of MTPE, and when to open yourself up to different avenues that will suit the content better. While MTPE can be applied to most types of content on your site (as long as the PE part is respected!), refrain from using this method with your:
Newsletters: they are built to inform your audience and keep them connected to your product, making sure they never forget you are around. MTPE is designed to save time and money, but you will lose time when the translator will need to sculpt a whole different text to make the message is communicated creatively.
Promotions, banners, and ads. They will need to be catchy and grab an audience with a different cultural background.
The 'About Us' page or anything deeply personal to your brand identity.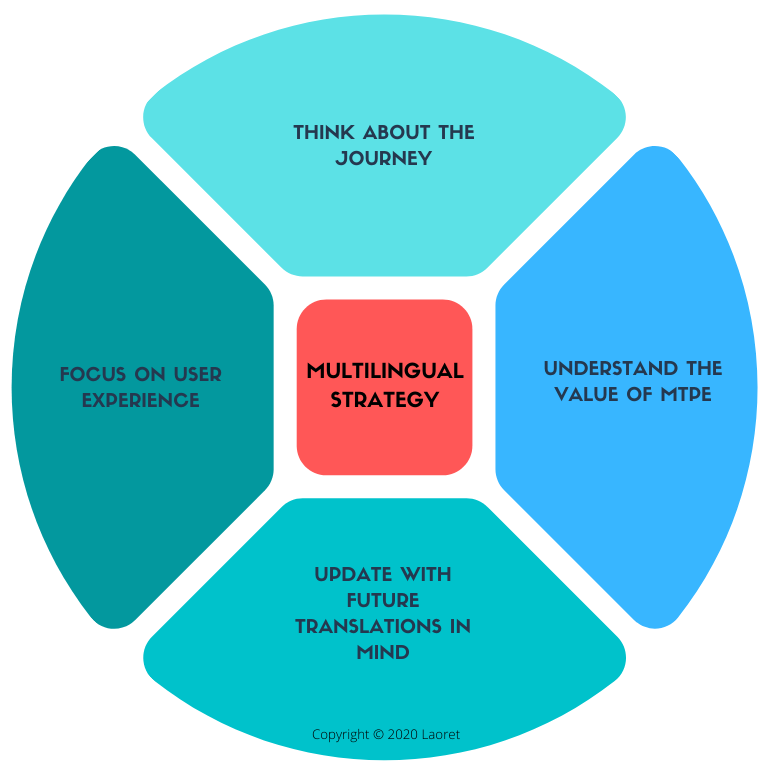 Machine Translation For WordPress And The Value Of Post-Editing
While Machine Translation for WordPress is available through a number of plugins, what is less easy to obtain is the arguably more crucial Post-Editing Process. Human Parity may be high on the agenda in the evolution of NMT translations, but there are still important nuances that machine translations are not ready to pick up on.
Cross-cultural interactions are becoming a norm in business and if you want your site to have a real impact, your translation can't be restricted to mere words. Post-Editing has proven to be indispensable in boosting cultural literacy and credibility and ensures that:
Contextual mistakes easily missed by MT are weeded out and corrected.
Real-World Knowledge is applied to your website. Your content should be translated for the country, not the language. It should be relevant in ways that promote user engagement. Local insights into cultural awareness can be shared such as seasonal/religious appropriateness to avoid alienating your audience.
Your site traffic will increase exponentially. Search Engines favor websites that answer to the content-specific and structural expectations tied to a particular locale. Post-Editors and localization experts can help offer insights into what requirements these would be.
The MTPE Process is streamlined within the WordPress integrations themselves and translation projects will be submitted into the workflow instantly. In Post-Editing, the application of QA and reviews are introduced throughout the entire process where they meet different levels of quality control. Only translators fully trained in the Post-Editing Process can secure a valuable output through this workflow and match the machine's speed with quality.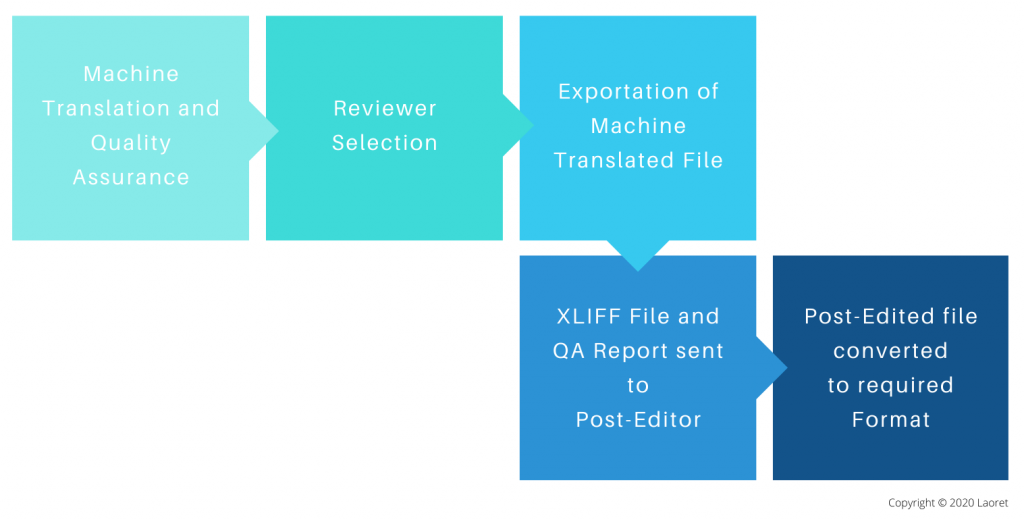 Discover the Ultimate Guide to
Machine Translation Post-Editing
A free, comprehensive guide that answers all
the questions we have ever been asked.
Conclusion
MTPE can be a productive partner in your mission to combine your WordPress Website with a multilingual strategy. The art lies in maximizing the tools and options given to you through Plugins, the subsequent CAT-Tool and MT-Engine integrations, and the Post-Editing Process. At Laoret, we commit to integrating CAT-Tools and MT-Engines, website localization engineers, and translators trained specifically for the Post-Editing Process. Our technical, as well as linguistic authority, ensures a flawless delivery of your product that combines technical know-how with the highest possible language standards.