DTP Translation Rates: Understand The Cost Of A Great Design
As mentioned in our blog, Multilingual Desktop Publishing (DTP): Go Global With The Right Design, Desktop Publishing Services can be complex and pose various challenges. This, of course, also means that the price tag can vary greatly depending on the project.
Learn about which factors determine DTP Translation Rates, what you can do to keep costs down, and how the services are calculated.
What Is Desktop Publishing Again?
We have thoroughly explored every aspect of Desktop Publishing Services before, but since we will be diving into the topic from a different angle here, let's review what DTP services entail.
DTP refers to the processing and designing of content, usually graphic-heavy content, both for print and online publishing. The goal is that text and graphics blend in perfect harmony in the page layout. For this process to be fully optimized, DTP specialists leverage DTP software such as Adobe InDesign or Scribus.
And yes, we say specialists. Because while Open Source DTP programs such as Scribus allow for even a novice to take the shot at DTP, specialized knowledge gained through years of experience will still need to be applied. This is especially true for multilingual DTP used in the context of translation services, since every design will have to be effective for the intended locale and audience.
What Is The Cost Of Desktop Publishing Services?
In this blog, we will be discussing everything that has to do with DTP Translation Rates, from tips to help reduce the cost of your DTP translation project to how DTP translation rates are determined. If, however, you want to receive a specific quote, contact us through our Request A Quote Page, and get an estimate for your project as soon as possible.
How DTP Translation Rates Are Calculated
Going from the complexity of the service, you may have guessed that the way DTP services are charged can be quite complex as well. A simple translation service is charged per word, for example, but multilingual DTP also involves the perfect integration of text and images and information architecture. That is why there are specific aspects that fundamentally influence the eventual DTP price tag.
DTP Rates Per Page
While DTP Translation Rates can be offered based on the number of pages, it is not always a clear indication as to how much work will actually crawl into the project, due to the heavy amount of graphic design it can involve. For example, a single page could contain many graphics, illustrations, tablets, grids, and so on. This is why the DTP cost per page is usually implemented when dealing with lengthy documents that feature few images.
Hourly Rates
So, if we are involved in a project where there are a lot of graphics and illustrations involved, how is the rate best calculated? After all, images require more work than text and depending on how complex the images are and whether they will need to be adapted for the target locale, the workload can differ. That is why hourly rates are the most cost-effective method to use in this case.
DTP Rates Per Graphic
Perhaps you are not looking to translate larger projects or documents but would have some graphics localized instead. In that case, you may be better off with a rate per graphic.
The DTP Process vs. DTP Translation Rates
The DTP process doesn't only involve the actual work of rearranging text and graphics on the page. It's more complex and multi-layered than that to get translated documents with professional-quality and consistent look. And it's the outcome you get if you choose to connect with an LSP and use their professional services to cover your translation and DTP needs.
There are 3 critical steps in the DTP process, which are easily overlooked, if an LSP's multidisciplinary team isn't in charge. Those 3 steps involve specific standards that must be met, and which are directly linked to the quality of the end result.
Pre-Translation DTP. Before the actual translation and localization, the project is evaluated to identify the scope, context, and requirements, as well as potential challenges in the source material. The files are checked and prepared to streamline the translation workflow. The DTP specialists will also extract the translatable content and categorize the graphics so it will be easy for the linguist to translate without interfering with the code.
UI and Graphic Localization. Your translated and localized content is meant for a specific audience to appeal and impress them, and a translated content only won't do. More than just mere mirroring, the entire UI and graphics will have to be localized and adapted to the standards and preferences of your audience's culture while retaining the essence of the source material.
QA and Final Output Format. A DTP project is as successful as its quality assurance. It's the most important part of the process. With a precise, detailed, and comprehensive checklist, the final translated materials are subject to rigorous quality checks to ensure that every aspect of the document is inspected and verified. Upon your request, your LSP will then export the translated materials in your preferred final format, and finally compare them to the source files to make sure that the file characteristics remain intact.
Of course, this process represents the optimized workflow of an LSP, and depending on which path you choose to take, the actual execution will differ and the rates will also fluctuate. Wondering how working with multilingual professionals can benefit you? Read on! Of course, this process represents the optimized workflow of an LSP, and depending on which path you choose to take, the actual execution will differ and the rates will also fluctuate. Wondering how working with multilingual professionals can benefit you? Read on!
3 Key Tips to Keep DTP Translation Rates Under Control: How to Save Money – and Time
Although DTP services can be a pretty complex and demanding step of the localization process, did you know that you can significantly influence the production cost – and time- of your localization project? Keep these tips in mind during the development stage to make sure that you get value in the shortest possible turnaround time.
1. Work With a Professional DTP Translation Agency
A professional DTP agency can be of great benefit. They have the expertise and technology to deliver exceptional quality that meets both your schedule and budget. But how can partnering up with a translation agency be a cost-effective solution? Keeping these tips will prove especially useful:
Each translation agency has its own pricing system, so inquire about your LSP of choice pricing system in detail.
Check if the LSP offers customized packages for competitive prices that match your budget. Besides, when you choose a vendor to work with, you'll get special deals and discounts that usually come with long-term partnerships, which makes it a convenient, cost-effective solution in the long run.
Working with an LSP that offers end-to-end solutions, from translation to DTP and QA, will make sure that your end product is consistent and possesses the quality you need it to have. If you choose to translate the content and then send it to a separate DTP specialist, you will need to put in extra work to make sure this new professional understands your brand and mission, not to mention how costly and time-consuming this is.
Speaking of DTP specialists, while some may see them as a viable option, this is not always the case. Not only in terms of brand consistency and time management, but DTP specialists will not have the technological tools LSPs have. More on this below!
So, how do you know what the right LSP looks like? Keep these tips in mind!
Double-check the website for any proven experience in DTP! Not all LSPs have them.
A qualified LSP will assign native, in-country experts to format your product entirely to local expectations.
Additionally, an LSP will leverage the technologies that can help automate certain parts of the process and guarantee optimal multilingual products. This includes a top-of-the-line Translation Management System (TMS) that will streamline the entire process and allow the team to communicate effectively through a single channel.
This TMS is further optimized with Translation CAT Tools that hold Glossaries and a Translation Memory to make sure that approved terminology is used consistently, and the brand voice is maintained.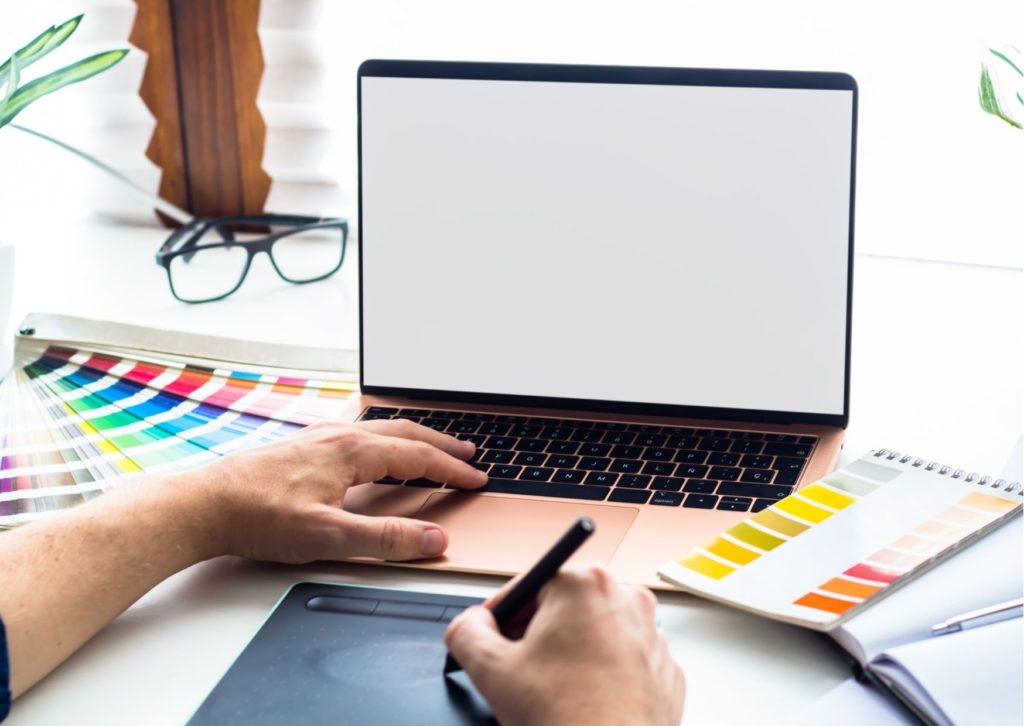 2. Be Aware Of The Complexity Of Your Project
We have already touched upon it somewhat in our section about how DTP rates are calculated, but the rate will be greatly influenced by the complexity of your project. Here are some key factors that will determine the complexity of your project.
What Is the Target Language?
The language that your materials will be translated into will determine the rate for the most part. Each language has its challenges, and DTP services are made all the more complex by languages that:
Pose text expansion challenges. Some languages take up more space than others, and German, for example, will take up about 3 times more space than English. This will inevitably impact the design.
Are not based on the Latin alphabet, such as Arabic, Russian, and Japanese, which follow their own linguistic rules and are generally more complex than western European languages.
Are not based on the Latin alphabet and written in a different direction. Arabic, for example, is written from right to left, while Japanese is written from top to bottom. Here too, the design will need to be adjusted to fit the language.
What Type of Material Do You Have?
Are you translating a website or app? Or just a couple of documents? It is important to remember that graphics-heavy projects such as apps, will have a higher cost because of the number of DTP experts that may be assigned to the project, and the time it will take to complete it.
3. Consider Your Scheduled Timeline
You will most likely want your project to be finished before a certain time, right? After all, both quality and speed matter in today's business climate. That is why in the translation industry, rush fees are commonly applied for the projects that will need to be completed before a certain time. While this will demand more from an LSP in terms of hours and resources, you can make sure that you are doing what you can to speed up the process and cut down on production time.
Make Translation Your Goal From The Start
We often receive requests for website translation, adapting packaging for different regions, or even the localization of marketing materials, where no adaptations have been made to actually support the translation process. And to many clients' surprise, this is not actually that complicated and yet makes a world of difference. Keep the following points in mind if you want to keep turnaround time and costs down.
Avoid hard coding your images and graphics. When you hardcode the image dimension, you are limiting the image to the source text size. Depending on the text expansion and contraction, however, the localized images will need to be redesigned in different sizes.If you deliver your image in this way, it will be hectic for either or both the translator to match the translation with the source text's size (which is oftentimes unrealistic) and the DTP specialist to manually adjust/redesign the localized image, which will take up far more time than is necessary.
Avoid using tabs since they can prevent the content from adapting to a new layout. Instead, create tables and text boxes. This way, text expansion or contraction can more easily be accommodated, and the content can more easily flow.
Avoid splitting phrases and keep your lines complete. Most vendors leverage Translation CAT Tools, and a break in the line can be read as the end of the sentence.
If you are making use of index markers, make sure to place them as close to the intended reference, ideally next to the word or the beginning/ending of the sentence.
Once you are ready to reach out to a qualified vendor, you will still need to follow some best practices to boost the efficiency of your documents, mainly:
Provide reference material to communicate exactly what you would like the finished product to look like. This can include specific guidelines of your brand, such as a style guide with an overview of your stylistic preferences to maintain your brand voice, but also visuals by competitors and thought leaders where you indicate which features you would like to be integrated in your own unique style and brand.
You should also share the original files of any visual materials you would like to see integrated into the translated designs. If your designs include a logo, for example, send it along separately in the most commonly used formats such as AI or EPS as used in Illustrator, and PNG.
Conclusion
So, how much will you pay for your Multilingual DTP services? There are several factors that go into DTP translation rates. Do you have many graphics that will need localizing and formatting? Have you selected any languages that may be challenging because of their scripture, expansion properties, or direction? And don't forget, have you implemented all of our tips to thoroughly prepare your documents for DTP and localization? Long story short, be prepared!
At Laoret, we boast years of experience in multilingual DTP and leverage native linguists, designers, and engineers who all work together within a highly optimized TMS.
Our 24/7 availability and commitment to designing our own tools, mean that we can offer high-quality services at competitive rates. Contact Us for a quick quote!