Desktop Publishing: DTP Services in Translation
You want to translate and localize your website in, say, Turkey, but you discover that the font on the original website does not support the Turkish glyph "ç". Or, you want to use two languages in the same file, but the font just doesn't look very professional or appealing for both.
These common translation and localization issues require the expertise of desktop publishing services or DTP. Any business that relies on digital and printed content requires multilingual DTP services in order to successfully localize in new markets. But what really goes into Desktop Publishing?
Read along to find out more.
DTP Services 101.
Desktop publishing services, DTP is the use of software on a personal computer to produce printed or digital documents while adjusting the text, images, and graphics across various file formats and sizes.
Consider the production and printing of a newspaper or magazine; DTP would deal with determining where the text, images, and graphics go, how big should the headline be, what font is to be used, and the like.
Multilingual DTP, on the other hand, does so across languages, so it adapts the same file into another language. And, depending on many factors, the translated file might change slightly or significantly from the source one.




Here's an incomplete list of what multilingual desktop publishing software can create:
Brochures, catalogs, fliers, ads, and posters.

Newsletters, magazines, books, and e-books.

Cards, banners, and postcards.

Packaging and wrappers for retail merchandise.
With the assistance of page layout software, desktop publishers add all the necessary elements to create any document your business needs. By producing templates called Master Pages, they're able to resize and scale the files, avoiding having to redo the same designs over and over again.This is one of the major advantages of DTP, which cuts costs and increases efficiency while preserving branding style. With great DTP software, you'll get what you see since the page layout on the screen will look the same as the published or printed form.
Let's Get Technical – What Goes Into Multilingual Desktop Publishing?

Great DTP service builds brand consistency and helps your business steer away from any mistakes when presenting your offerings to the target audience.
According to research, it takes the customer 5-7 impressions to remember one brand. That being said, if you're not being consistent in how you present your brand in a new market, it will be even more difficult to build a customer base in an entirely new market.
Think about letter-spacing control, tracking, kerning, typographic features, as well as colors, and styles – these all need to be preserved across different file formats and sizes. Also, you should make sure to avoid any layout discrepancies between the screen display and the printed output.
Multilingual desktop publishing requires extra effort especially when we have to deal with multiple languages that might require specific styles, fonts, directions, and space lining.
While the English version uses capital letters, the dispersing of words in both user interfaces is fairly different. Translation in Arabic not only generates more content, hence obliging the designer to decrease font size to match the text-space ratio, but also requires more vertical space.
You may also notice that the images have switched places due to the change in language direction, as English is an LTR (left-to-right) language and Arabic is an RTL (right-to-left) one. The colors are similar but in slightly different tones as well.
These are just some of the many components that go into multilingual DTP services. Preserving so many elements is not always as visible as it is in this case, especially when the target language employs a completely different linguistic and visual system.
While the Latin alphabet is quite minimalist and allows for a lot of freedom with line spacing, the Chinese glyphs require precise spacing if you don't want to cause confusion by cramming a lot of content into a small space.
Furthermore, for bi-directional languages, like Chinese, which can be written both vertically and horizontally, line spacing might be the only cue to understand how to read the text.
But it doesn't end there, since every culture has its own system of colors and visual cues that send completely different messages. For instance, while most cultures relate the color red with loss, danger, and decline, in China it can be used to show economic growth as well.
In addition, while graphic design in Europe is more minimalist, in Arabic-speaking countries styles that complement calligraphy are commonly used, and in China or Japan designs are denser and include more elements.
2 Successful Cases of Multilingual DTP Service
We'd like to bring to your attention 2 different but very successful DTP examples:
KFC localized the entire business model in China and even reinvented its menu by adding many traditional dishes that appeal to Chinese customers. For instance, the American menu has about 29 items, whereas KFC in China has a rich menu of about 50 items. Only this change required translation, transcreation, as well as DTP services to squeeze more products and content into the same posters or website in a language that uses other types of glyphs as well.Their websites in the United States and China demonstrate the previously mentioned cultural differences. While the English version is simple, the Chinese version has a much more complex interface.
Now You See Me 2 – Movie Poster
The second example that would help illustrate the work that goes into DTP would be the transcreation, translation, and rework of the poster of a movie called Now You See Me 2. In the background of the original USA movie poster it says 'Now You See Me' which is translated in Spanish (Chile) as "Los Ilusionistas, Nada es lo que aparece" meaning (The illusionists, Nothing is as it seems), and "Truque de Mestre" (Master Tricks)' in Portuguese (Brazil). On the other hand, in the German one, the background stayed the same as in the original, but they added a German title "Die Unfassbaren" meaning (The Incredibles).In the Japanese version, however, the poster has been clearly reworked and redesigned, which is very common in Japanese movie posters. (The title contains a bit of English which is "Grand Illusion".) Cinema graphics have a very distinct style in Japan, and they never just copy-paste posters from different countries.All these changes are done by DTP experts that understand the local market, and audience, and use their creativity to bring the same product, in this case, the movie to their country with the sole purpose of getting people to fill in cinemas.While the Spanish and Portuguese ones found an engaging and persuading phrase that worked very well with the background picture, the German left it in the original because "Die Fussbaren" (The Incredibles) wouldn't possibly fit well with the background.
Key Steps of Desktop Publishing Services
The DTP process begins by extracting the data from the source files. The Desktop Publisher will extract all text from the file format and send it to the translation or transcreation team. Graphics and images are also discussed and agreed upon, whether they will remain the same or change.
The text content is then subjected to the Translation, Editing, and Proofreading (TEP) process, which is performed by three experts using a variety of CAT tools. Once completed and checked for quality assurance, it is delivered to the desktop publishing team.
The desktop publishers will then adjust all the elements on the page layout to accommodate the new material and ensure that it is entirely adapted to the new target language and the cultural context.
Next, the files go through another visual, linguistic, and functional Quality Assurance to weed out any error. Before delivering the completed product to the client for feedback and approval, the project managers evaluate it one last time as well.
As you may have noticed, several teams work together to complete this whole process. Although you can hire independent teams, it is best to outsource the entire localization process to a single localization and translation company.
Aside from the benefit of being familiar with the product and thus taking less time and making fewer mistakes, one company will provide you with the best value for your money, since DTP rates can be quite high.
Who Performs DTP Services?
Good multilingual DTP Services are provided by a team of desktop publishers in cooperation with graphic designers, transcreation experts, and qualified translators. Even though desktop publishing software is becoming more and more efficient, their supervision, creativity, and expertise are very crucial to the success of a localization project.
Besides qualification and experience, the team should be native to the country you're trying to expand. Expert natives are well-versed not only in the standards and rules of publishing and printing but also can deliver high-quality work that is not confusing to the local audience.
Hiring American desktop publishers to localize files from US English to Khazakistan Russian, for example, could cause major problems for your company because knowledge of the Cyrillic alphabet is insufficient. Most American experts may lack insights into what works in Kazakhstan, that's why most American companies would require to rethink the original design and text when localizing there.
8 Best Desktop Publishing Tools for 2022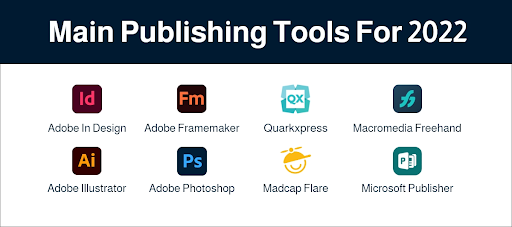 Main Publishing Tools for 2022
Adobe In Design

Adobe Illustrator

Adobe FrameMaker

Adobe Photoshop

QuarkXPress

MadCap Flare

Macromedia FreeHand

Microsoft Publisher
While there are hundreds of desktop publishing software, these are considered the best of 2022:
Adobe InDesign

: Great for multilingual support and integrating all the workflow across Adobe Software.
Adobe Illustrator

: Vector-based graphics software used to scale different file formats from mobile screens to billboard size.
Adobe FrameMaker

: Excellent "What you get is what you see" pdf, ebooks, and HTML5

page layout software

.
Adobe Photoshop

: Photo and design software to retouch images and create visuals.
QuarkXPress

: Leader in graphic and web design, rich in features and tools.
MadCap Flare

: Easy-to-use software to write and create technical documents in a wide variety of formats, languages and devices.
Macromedia FreeHand

: Great catalog of design tools to edit and produce documents.

Microsoft Publisher

: Top-notch

page layout

tools for publishing ebooks, books, newsletters, brochures, and more.
Download our comprehensive checklist
Get your free guide to help you plan your next virtual interpreting event!
Conclusion
Multilingual DTP services are an essential part of the translation and localization process of your business.At Laoret, we collaborate with in-country native linguists and top-tier DTP specialists capable of managing complex localization projects and delivering high-quality multilingual documents in the shortest amount of time with very affordable pricing. Request a quick quote and let us walk you through the entire process.