How To Use Mobile App Localization As A Smart Market Expansion Strategy
Our mobile phones have grown from a useful utility to an extension of our hands. Some available analysis indicates that in 2019 alone, over 2 million apps were available for download in the Google Play Store and that by the end of the year, mobile phone users had reached 4,68 billion1. This valuable source can only be tapped by maximizing your app's ROI and taking your business overseas.
In order to compete, you need to speak your user's language in every sense of the word. That's why an integral part of boosting your monthly active users (MAU), lies in adapting your app with an eye on language, customs, and preferences. This is where Mobile App Localization comes in.
"Localization is more than just mere translation…"
A successful localization project will make the user forget the app that was ever designed for anywhere else but their country. Think of Facebook2. It was developed and implemented in the US, but with far more users in India than in its native country.
In this blog, we will outline the steps mobile app localization consists of, and what you can do to get the most out of it. We like to look at localization as a collaborative process where information exchange from both fields of expertise can help in developing the best possible product.
The Mobile App Localization Process From The Client's Perspective
Select the right Translation and Localization Vendor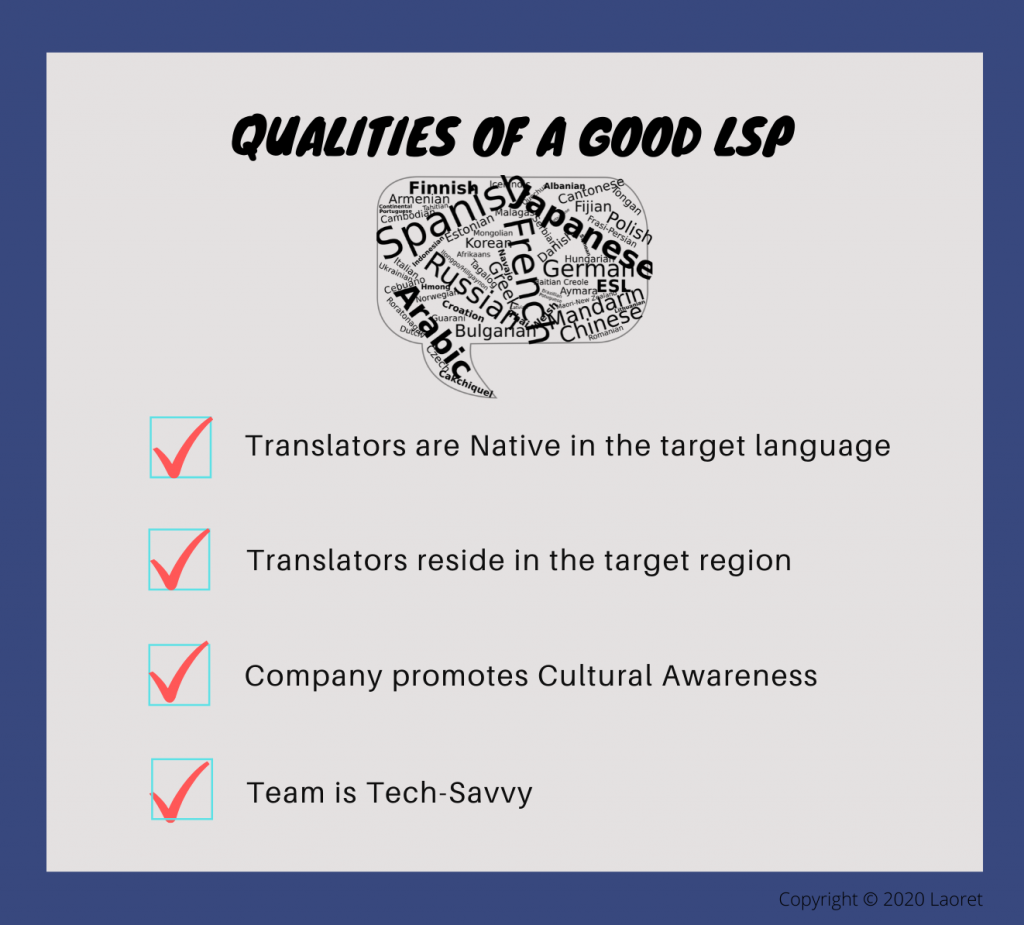 It all starts by finding the ideal translation vendor for your project. There is no shortage of translation vendors these days, and if anything, it has made finding the right agency all the more difficult. So, you have to make sure to select a vendor capable of providing professional translations in your target language(s) and with a keen insight into the market(s) you intend to expand into. the right Language Service Provider has to possess the following qualities:
The assigned translators are experienced and specialized in translating Mobile Apps and are proficient in dealing with different demographics. They know how to adapt your content to suit your target audience, are native in the target language, and reside in the region/country you are targeting.
The agency promotes cultural awareness and knows how to adapt your translations in such a way that prevents causing offense in the countries and regions you intend to target.
The Language Service Provider (LSP) should be tech-savvy and can offer you a personalized process and utilize the right localization tools including Translation (CAT) tool and Translation Management System (TMS) that best fit your needs.
The Localization Process in a Nutshell
Localization combines translations, cultural adaptation and leveraging the right localization technology and that's why it is essential to have your Mobile App3 content going through the main translation phases – translation, editing, and proofreading (TEP), all according to the linguistic and cultural targets, to ensure quality upon delivery.
So now the question is, What exactly will be translated? Well, apps consist of different sets of components, all of which will need to be looked at separately.
In-App Content is the content your user is exposed to when actually using the app. You have already made sure to develop content that entices and engages your users for the one specific market it was designed for. But now, the same will need to be created in another language for another type of audience. The in-App text is, as a result, crucial in the localization process. In-App content localization is usually achieved by translating the "Resource File" into each target language, country, or region you are now aiming to target. The resource file is that which combines almost all of the strings in your application. Typically, the resource file is based on JSON, XLIFF or.XML Interchange file format.
Non-String Content, while non-textual, will also need to be exposed to the localization process. This includes video, audio, numbers, currency, and so on.
Finally, the App Store Content covers, as you are aware, often the first pieces of content the user will be exposed to when deciding to complete the purchase/download or not. So ensuring well-translated and well-adapted content could make the difference between a sale or no sale. This type of content includes text, keywords, videos, screenshots, app previews, In-App Purchases, and sign-up flows.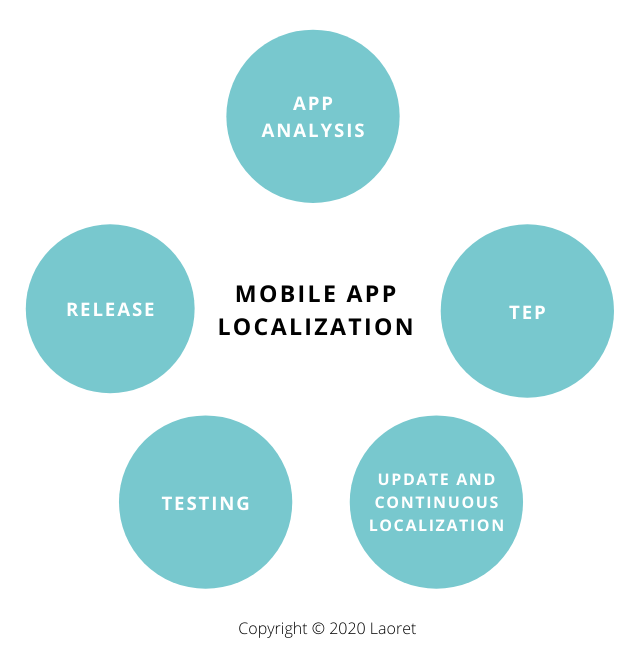 Maximize the Mobile App Localization Process and Contribute
In order to get the best-localized version of your product, you would need to provide the translation team with information that will help contextualize your Mobile App. In short, let them know what makes your app unique.
So, it is highly recommended that you:
Include screenshots of any special features
Provide more context by adding comments to the strings
Go for a full immersion tactic and request that your translators download the App, if available on Google Play or App Store. This will give the translators a much-valued context on how to make the best choices in terms of terminology
Be a part of Continuous Localization
Updates and Translation Management System
Mobile App localization doesn't end just with localization of your App content. It is a continuous process. App Developers always add more features and make changes and therefore these updates would need to be localized as well. In order to make this run smoothly, all of the target languages need to be synced with the source language, so that miscommunications and errors can be avoided.
The process of continuous localization could be challenging and needlessly complex if not carefully managed. For this reason, the translation vendor should essentially make use of a Translation Management System (TMS) and Translation (CAT) tools. With a TMS & CAT tool, you can cut costs drastically and boost productivity by taking advantage of the localization process automation and ensure that:
The updates in the new content and updates are flawlessly extracted and the translation is properly inserted without affecting the already localization content.
The teams can collaborate in an efficient manner, speeding up the localization process
Translation Memory (TM): To archive the translations of your Mobile App so you can leverage it again as you go with more localization efforts. This is particularly useful when it comes to maintaining the best quality and saving cost. (You can read more around the benefits of using Translation Memory in the next section).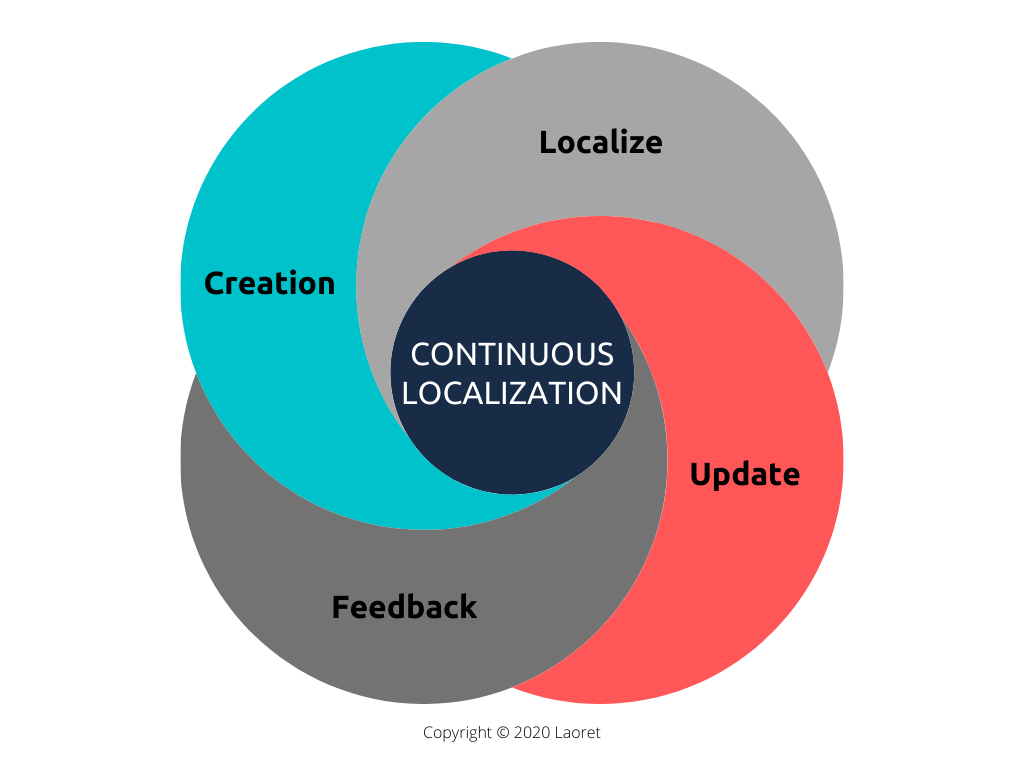 Communication And Quality Assurance
In order to keep the workflow of your content translation consistent and successful, communication is paramount. We recommend that you consistently attach comments and notes to the content updates during the development phase to further explain the context of these updates. For example, expand on what the updates will alter the user experience so that the translation teams can choose the most accurate translation.
The translation vendor plays a key part in terms of enforcing regular quality measures by maintaining a unified Translation Memory. A Translation Memory (TM) is an application that provides suggested translations based on a database that has saved all previously translated work. The use of TM is highly beneficial in terms of:
Maintaining consistency across the translated content
Maintaining faster turnaround time for the small changes that would need to be made
Save cost by using archived translations to translate similar strings that will not be charged the full amount.
Mobile App QA Testing, Launching and Beyond…
Now it is time to perform proper mobile app testing before the actual release. Make sure to perform both Smoke Tests and Beta Tests to ensure that everything has been implemented correctly and the App functions maintain the same level of performance when running with the newly added language(s).
Now, you can publish and release the localized app along with the localized App Store content, you can put your international marketing strategies into action and launch localized campaigns in the new target countries and regions. The best way to do that is through cost per install campaigns which allow you to create ad campaigns that target your desired audience and encourage them to install your app
Finally, make sure to enable User Feedback, when you expand into new markets, you'll start seeing more comments, reviews, questions, and requests from these countries and you would need to provide some sort of support to your users so they know the problems they face are being heard and addressed.
Conclusion:
Mobile App Localization is indispensable for any Market Expansion Strategy and it's intrinsically linked with progress and growth within your target markets. It allows your mobile App to thrive in different languages and cultures and increases your global visibility, usability, and credibility.
The world has gone mobile, and Laoret can help you tap into it. We utilize the most innovative technology available on the market, perfectly tailored to your needs. Our ISO 9001 and ISO 17100 Certified Translation Services, ensure top quality control starting with the selection of highly skilled translators to our meticulous editing and proofreading services, for which we provide experienced, native speakers with a profound knowledge of your industry and locale.
We have worked hard to create a system that streamlines the process from ordering to final delivery so that quality control is seamlessly combined with cost-effectiveness and efficiency. You can use our pre-cost calculator to budget for your project, or you can choose to submit your documents online and request a detailed quote. Our project managers remain available 24/7 so let's get the process started today and find out what we can do for you