Multilingual Voice-Over: Get In On the Action
Welcome to Part 2 of our Ultimate Multilingual Voice-Over Blog Series! In Part one (Multilingual Voice-Over: How To Get It Loudly Right), we have expanded on the process of Multilingual Voice-Over Localization, and the best practices tied to achieving both quality and a cost-effective product.
In this part, we will focus on valuable requirements and contributions from the client perspective as well as what to expect regarding the Voice-Over Localization costs.
Learn all about how your preparations and contribution can prove vital in achieving the highest possible quality within the shortest possible time frame.
Delivering The Right Requirements For Your Multilingual Voice-Over Service
This part is all about you, the client, and the expectation you will be communicating. Take note of all the details mentioned here and know that the cost-effectiveness, the turnaround time, and the eventual quality, will be determined by how well you inform your LSP or Voice-Over Vendor of the specific aspects related to your localization project.
Make A Choice Between Professional Studio Recording And Standard-Quality Recording on PC
These days, voice can be recorded with a large variety of tools from smartphones to sophisticated studios. Any product designed to speak to a specific audience, can benefit most from professional handling by a translation and localization provider. But even here, you have the choice between committing to actual professional studio time and engaging a voice-over talent working from a desktop with professional equipment. Have a look at what both of these options represent, and which ones would suit you best!
Professional In Studio
Professional On PC
This option provides the highest quality service also attached to the steepest price tag, featuring varied and specialized equipment.
The most cost-effective option that features a voice-over talent working from their desktop computer, fitted with professional mic.
Most suitable for services including:
– E-Learning
– Game Voice-Overs
– Commercials
Most suitable for service including:
– Presentation Voice-Overs
– Conference Speeches
– IVR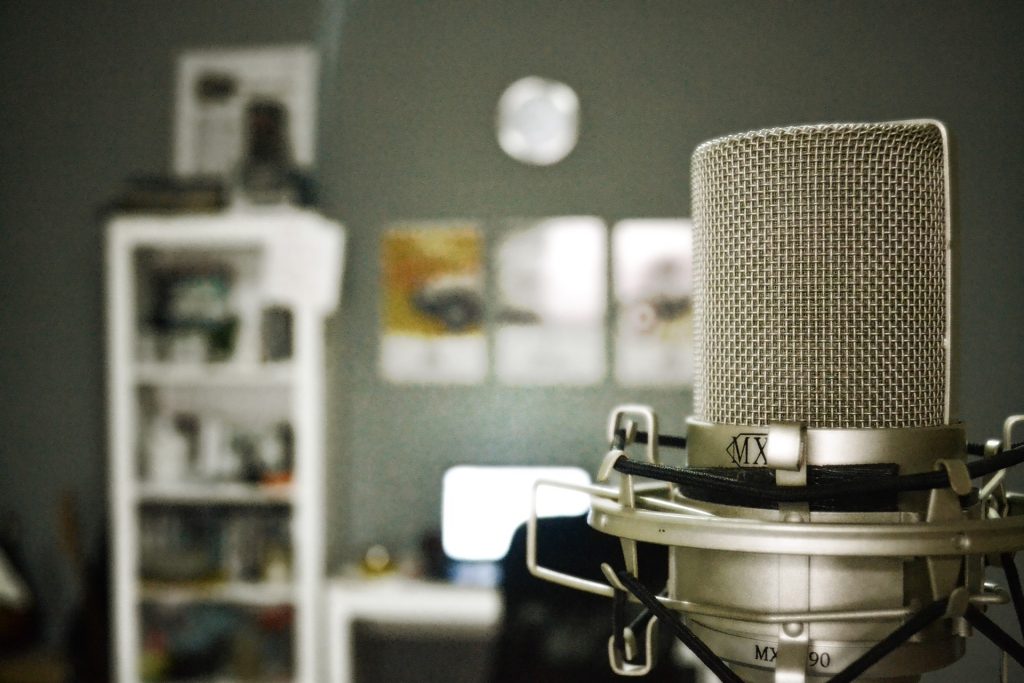 Deliver The Scripts Of The Source Recorded Audio
Scripts or source recorded audio files to determine the multilingual recording lengths
If you have a source recorded file available, you may also share it with your Voice-over vendor along with the specific recording specs. This will be very useful if you would like to stay consistent across all the multilingual voice-over components of your product.
Determine The Target Language(s) For Multilingual Voice Over
Determine well upfront which languages you will be translating your content into. Each language will have different requirements and costs based on the availability of translation experts as well as language resources. That being said, one aspect will be consistent during the entire process, and that is that the selected translators will need to be in-country, native experts with particular experience in the translation industry with knowledge of the translation tools, and the subject matter dealt with in the source content to achieve maximum understanding and interpretation.
Help Select The Perfect Voice Over Talent
You have certainly asked yourself by now, what defines a good voice-over talent? Of course, this is all related to your source video and the original message you have worked to communicate to your audience.
Think about the number of actors used in the source video and communicate how many voiceover talents you will need.
Subsequently, communicate the specific age group to your vendor. Add if you are targeting a specific demographic.
Should the talent be male or female?
Be as specific as possible with the region you want to target. You see, from the perspective of a quality vendor, one specific language actually represents many different ones. Your audience will engage with you in a more positive way when the voice-overs are delivered not only in their native language, but also in their local dialect, including the use of familiar idioms and phrases. For example, the Modern Standard Arabic is a very common form of Arabic and it is commonly understandable across the Arabic speaking countries but when it comes to the spoken form Arabic there are different dialects.
Consider the expectation of your audience and brand further and think about the level of formality you want the talent to communicate.
Set The Right Expectations And Request Some Samples
Sharing samples to your LSP is particularly useful for two reasons:
Learning what the outcome quality would look like based on the submitted requirements
Confirm if you have some preferential instructions and if you need to go back to change the requirements we have set in the first place. This will save you time in the end!
Communicate The Technical Specs And Required Equipment
Whether you will be going with Professional Studio Quality or the Standard Quality delivered on a PC, you will need to confirm various other components that you would want to be included in the process. Some of these are:
Which Audio Software to use (ProTools, Nuendo, and so on)
Which type of equipment (microphones, compressors, mixing disk, speakers, …)
Lip-synching tools (video hardware)
Confirm the Plugins such as TDM, RTAS, VST, DX
Remote assistance
Confirmation that a PC enabling to follow easily the script during the recordings is present in the booth
Understanding The Cost Calculation For Multilingual Voice Over Service And How To Read The Quote
The requirements mentioned above will have a direct impact on overall the cost of your multilingual voice over project. That being said, it's fair to say they are sufficient to get a preliminary quote, if not a final one for you to review and approve.
An Overview Of How Each Service Is Charged
It is probably clear to you now that Voice-Over Localization is a complex process and by extension, in terms of pricing options there is no one-size-fits-all solution. Typically, you will be provided with a quote that involves the Production Hours, Output Hours, use of resources, and so on.
For instance, when it comes to a professional quality-studio recording, the pricing unit could be either based on the production hours or outcome hours/minutes. On the other hand, standard recording is counted per hour/minute, and the cost for the translation itself can be included in the overall cost or listed separately.
That being said, we are not going to delve too deeply into this aspect of the Voice-Over pricing. After all, the pricing metrics and vendor production costs for this service could be complex depending on the requirements outlined above, and how vendors choose to introduce the costs to their clients.
So, what we want to do is to demonstrate the kind of tasks that could be involved in your project and how they would potentially be charged.
How Should Multilingual Localization
Ideally Be Executed?
Get your Free eBook listing the best practices and practical tips on how to best execute subtitling, voice-over, transcription, and dubbing services !
Transcription Services
A Transcription is the service that transforms the spoken language into the written script ready for translation. This service will be required if you don't have the original scripts of your source recorded files available. Transcription is usually counted per minute, and while the outcome may vary, you can expect an estimated average of 70 – 140 words per minute.
Translation Services
The actual Translation Process comprises Translation, Editing, and Proofreading (TEP), aimed at producing the multilingual script for recording. These services are charged at a rate per word.
To fully understand the entire process of TEP, please read Part 1 of our Voice-Over blog series where we expand on it into more detail!
Script Preparation And Adaptation
The preparation and adaptation of the scripts involve:
Adding the time codes and breaking up long sentences to streamline the recording process for the talents if there's no original recording to match its lengths
Matching the translated text with the length of the Source text as much as possible to synch the recording
Adding punctuation that is natural to the target language
Due to the various nature of the work, this service is usually charged per hour.
P.S. Note that some Voice-Over studios and LSPs don't consider this to be a separate phase, and rather see it as part of the translation process, while others would consider it to be part of the Pre-Production tasks. If they were assigned to manage the entire translation phase, no separate costs would be charged for this service.
The Recording Stage
In case you have settled on the pro-studio quality recording, the studio and selected voice over talents along with the technical equipment should be confirmed prior to the recording day. Most of the Voice-Over Talents charge for a full day, a half-day minimum, and so does the studio. So, make sure you are taking full advantage of the time you will be charged for!
Post Production: Putting a Price On The Final Touches
The Post-Production phase involves the technical and linguistic QA as performed by the Localization engineer. This service is usually counted at an hourly base, and the tasks involved in this phase may vary depending on your project's demands. Tasks include putting the recorded audio takes together, syncing the video with audio, producing the final formats, and so on.
Generally, The scale of both the pre and post-production work will hugely vary depending on the type of quality, and whether it is a standard or studio recording.
You have to be careful when attending the pre-production arrangements if you decide to go with the Studio option. Otherwise, getting this done incorrectly, or not according to the requirements, might lead up to a redo of the whole production or part of it.
This is why your input is so valuable, and all the above-mentioned boxes should be ticked!
Multilingual Voice Over: Frequently Asked Questions
We tried to cover as much as we could in this blog, but we know that you will likely have some more questions! So, we have compiled some of our most frequently asked ones below! Are you still not sure about how to approach your next Voice Over Localization project? Remember that we remain available 24/7 for any inquiries, and can provide you a quote within minutes.
How do I find a Voice-Over artist?
If you need a voice over artist as well as other accompanying services such as translation, editing, and engineering, the easiest way to find the talent you need, is through a third-party vendor. Since this can involve a lot of research and expertise, it is best to communicate your wishes such as gender, age group, and accent, so that the vendor can make an informed decision.
What is the best Multilingual Voice-Over software?
Depending on your needs in recording, editing and mixing, Voice-Over software is offered in all kinds of price ranges and for every level of expertise. Popular choices include Adobe Audition, Audacity, and Wondershare Filmora.
How does Voice-Over Acting work?
The challenge of voice-over acting, lies in relaying emotion, meaning, and value through the use of the voice, but also in maintaining the integrity of the content and brand. For this reason, Voice-Over talent should be given the script (both original and translated) video, and any brand specific information to help them.
Conclusion:
Executing the ideal Multilingual Voice-Over project is a cooperative process. It demands a great deal of preparation and a profound understanding of the prerequisite requirements. Your contributions will prove essential in the eventual quality and success of your project, so always aim to keep yourself as well informed as possible!
Read Part 1 (Multilingual Voice-Over: How To Get It Loudly Right) of our Ultimate Multilingual Voice-Over Guide and discover the best practices involved in the Voice-Over Localization Process.