How Are Articulate Storyline Courses Best Translated?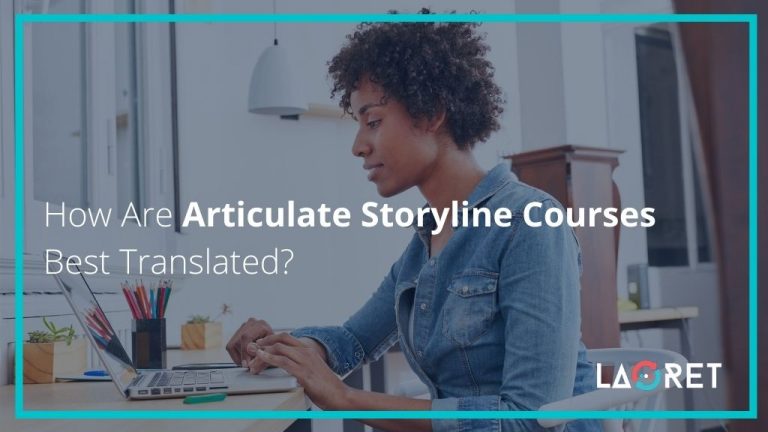 eLearning Localization combines translation with cultural adaptation and highly specific localization technology. Your eLearning content will be run through the main translation phases of translation, editing, and proofreading (TEP), and will be molded and tweaked according to the linguistic and cultural targets. However, before you can even start this process, there are way in which you can improve the UX and keep costs down. Learn more about how you can plan for eLearning Localization in our article on "Planning Your Localized eLearning Projects".
The Four Steps Involved in Articulate Storyline Translation
Next to the TEP Phases, eLearning Localization follows 4 crucial steps that, when combined correctly, secure a steady and integrated workflow. Here is how it's done!
Step One: Export the content in a XLIFF (XML-based file format) format. XLIFF is a translation-friendly file-format that is accepted by almost all translation CAT-tools.
Step Two: Prepare the files for translation. In order to ease the translation process, localization engineers make use of regular expressions which can be implemented with most CAT Tools. These regular expressions are designed to detect the codes and untranslatable text involved in the exported XLIFF files and lock them so the translators will not be able to edit them during the translation process. This is because any changes in the XLIFF codes may result in several bugs later, not to mention some importing issues.
Tip: Perhaps you are working with translators who manage their translation in a regular document format rather than with a CAT Tool. While we do not recommend this, it is possible to ask your LSP to import prepared content for you in .rtf (tabular format source text vs. target text) format which can be accessed through Microsoft Office and Google Docs.
Step Three: Import the translated files. The translation will be imported from the CAT Tool to the above-mentioned XLIFF format, and then the content will be imported into the Articulate Storyline tool.
Step Four: Finally, the formatting is applied, and Linguistic QA is performed. The most optimal way to perform a Linguistic QA, is to organize internal linguistic reviews and make the changes on the bilingual files prior to exporting them to Storyline. Otherwise, you might be importing bugs and errors and will need to go back and forth on the importing process. And what about the formatting? Well, this is where DTP-Experts come in. learn more about the formatting process in our article "What is Desktop Publishing (DTP)?".

Learn more
Get a detailed overview of the Articulate Storyline Best Practices